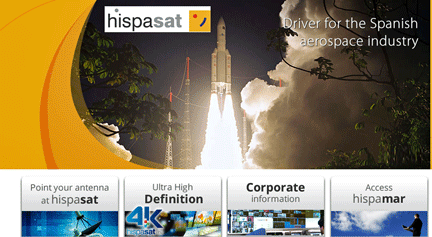 [SatNews] HISPASAT, the Spanish satellite communications operator, now offers HIGH TV 3D across Europe, underscoring its commitment to distribute high quality content.
HIGH TV 3D is the first international 24/7 3D entertainment channel, broadcasting high quality programs to millions of households. This new channel is broadcast from Hispasat 1E satellite from its orbital position at 30 degrees West and in collaboration with Telefónica Servicios Audiovisuales. The coverage offered by HISPASAT's satellites from this orbit, above Europe, America and North Africa, make them the perfect vehicle to distribute high quality video content to these regions.
The satellite operator and HIGH TV 3D are also exploring various collaboration options to distribute 4K content, a technology in which HISPASAT has a proven track record as it currently distributes its own channel, "Hispasat 4K", which was unveiled at the IBC Fair in Amsterdam in September. This latest development also underscores HISPASAT's plans to secure a key role in the TV channel distribution market in EMEA. In recent months the company has used its strong position at 30 degrees West to offer advanced TV distribution business schemes to its portfolio of content providers, teleports and operators.
The HISPASAT infosite is located at: http://www.hispasat.com/