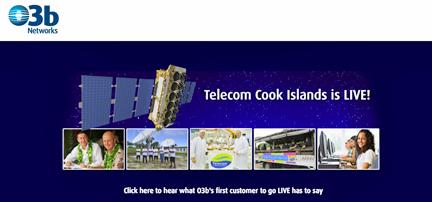 [SatNews] O3b Networks Ltd (O3b) has signed an agreement with FSM Telecommunications Corporation (FSMTC) to provide its O3bTrunk service to Chuuk.
Chuuk is the most populous of the four states that constitute the Federated States of Micronesia (FSM). This is the second deal O3b has signed with FSMTC, following a July 2013 agreement covering neighboring Yap.

O3b, which launched its first four satellites in 2013, began trialing services with customers earlier this year, with Telecom Cook Islands successfully deploying 3G services enabled by O3b since March 2014. The company's second group of satellites, 5-8 in the O3b constellation, are now at their launch site in Kourou, French Guiana, ahead of deployment.

John Sohl, FSMTC President and CEO, said, "We are delighted to have signed our second deal with O3b. O3b's low latency transit Internet bandwidth will enable the population of Chuuk to enjoy the same level of experience as the rest of the world. This is a highly significant step forward in the development of Chuuk. It is expected that high quality Internet access will boost tourism and enable citizens to enroll in interactive university courses, as well as bringing other benefits, both economic and social."

John Finney, Chief Commercial Officer, O3b, said, "We are pleased to work with FSMTC again to fully serve the connectivity requirements for Chuuk and some of the outer islands. In total, we have over 3.6 Gbps of IP transit bandwidth committed in the Pacific and the popularity of our unique service has established our position as the regional market leader. Business customers and consumers in Chuuk will see the same improved voice quality for international calls that other customers in the region are experiencing and FSMTC will be able to accelerate 3G rollout."
For further information regarding O3b Networks, please visit