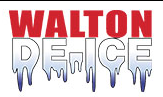 Actually snow isn't a likely weather situation in Las Vegas, although it does happen. If it should occur during next week's NAB2017, Walton De-Ice can protect antennas from outages due to snow, ice, rain and weather. Walton will be in an outside exhibit at booth OE-907. Additionally, Walton De-Ice helps satellite facilities reduce their energy consumption and costs.
During the show Walton De-Ice will announce that one of the most successful pay TV services has updated its satellite Earth station with the latest Walton Hot-Air Plenum De-Ice systems. Hot-Air De-Icing Systems ensure network distribution uplink antennas feeding affiliates stay snow and ice-free as they have been installed on two 11-meter satellite uplink antennas at the networks 's main US broadcast facility outside of New York.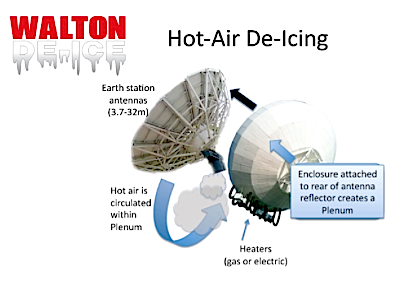 "Our legacy of providing Earth Station Antenna de-icing and weather protection systems for this premiere Cable TV brand dates back twenty-five years," said Bill Walton, President of Walton Enterprises Inc. ("Walton De-Ice"). "We designed the latest systems to provide customers with the most efficient energy consumption options, based on their business, and are delighted that this top brand cable programmer, with services in over 150 countries, has decided to continue its reliance on Walton De-Ice product in order to protect its satellite transmissions."
The Walton Plenum Hot Air De-ice system's has a uniquely patented designed to prevent snow and ice from accumulating on an Earth station antenna and degrading or breaking satellite links. Unlike Electric Pad or Heat Tape or similar Anti-ice solutions, the Walton Hot Air De-Ice system heats the entire antenna reflector and back structure, and uniformly distributes the heat.
This minimizes the chances of reflector distortion caused by thermal expansion and contraction, and therefore reduces the risk of resulting signal problems. Also unlike electric pad solutions, Walton De-Ice offers you flexible options to pick the most cost-efficient heating energy source for your business, whether electric, natural gas, or liquid propane gas heaters.