Telestream® has announced the release of Wirecast™ 3.5, a live video production tool that allows Mac and PC users to create real-time or on-demand video broadcasts for the web.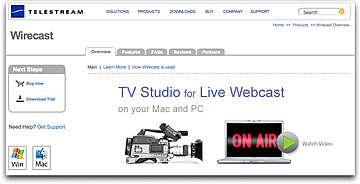 Wirecast 3.5
adds the ability to stream live video using the Adobe
Flash
platform, the number one platform for video on the web, according to a January 2009 study by
comScore
.
Telestream
also announced partnerships with leading live video streaming service providers,
Mogulus
and
Ustream
. These companies offer web video streaming services similar to
YouTube
, but for live broadcasting. Wirecast 3.5 integration allows users to quickly and easily produce Flash videos and use these services for live broadcasting over the internet to a global audience.
When ready to go live, Ustream and Mogulus streaming services can be accessed directly from within the intuitive Wirecast 3.5 user interface. Mogulus offers two types of streaming services: Free (ad-supported) and Pro (white-label, no ads, pay per usage). Ustream offers a broadcast platform, which includes a free (ad-supported) and its
Watershed
professional service (simple, no ads, pay per usage webcasts), encouraging user interaction to empower an engaging experience for everyone involved.