[SatNews] Hughes Network Systems, LLC (HUGHES has been awarded a task order by the U.S. General Services Administration (GSA) in support of the Government Education and Training Network (GETN) to provide commercial satellite communications (COMSATCOM) end-to-end solutions to enable the network's distance learning capabilities.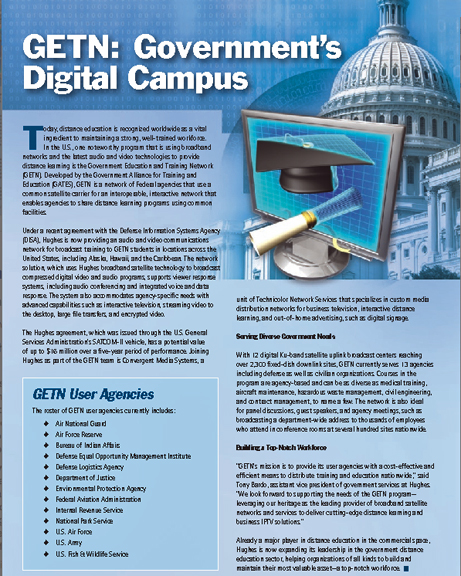 GETN is a network of eight federal agencies, including U.S. Department of Defense, Executive Branch agencies and Federal Judiciary agencies that share satellite technology, facilities, and distance learning programs. The task order, awarded through GSA s Custom Satellite Communication Solutions (CS2) contract vehicle, is for a term of four and one half years including the base and option years. The task order win marks the second GETN award for Hughes, following the first order in December 2007 under the GSA s SATCOM II vehicle to provide broadband satellite solutions and services.
Under the task order, Hughes will provide a one-way video and two-way audio network for GETN users via broadband satellite. Specifically, Hughes will provide: Satellite capacity Project management COMSATCOM engineering system design, configuration, installation, implementation and training Maintenance and operational support Helpdesk support Digital video and audio training programs will be broadcast to students located across the 50 states and the Caribbean via a geosynchronous satellite, with return channels from these sites enabling students to interact and communicate with the instructor. Hughes will ensure cost savings by consolidating bandwidth for the GETN community based on historical usage data estimates, and enable agency users to share programming over the same satellite space segment.
For additional information on GETN, please access to download the PDF info brochure.
The Hughes Government Solutions infosite is located at http://government.hughes.com/