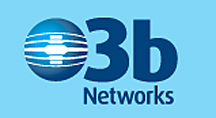 [SatNews] O3b Networks Ltd (O3b) has reported that its second group of four satellites have successfully completed all required ground testing and are now ready to ship—the satellites will be launched from LeCentre Spatial Guyanais (CSG), Kourou, French Guiana.
The satellites will soon begin their journey from the Thales Alenia Space facility in Rome to Kourou, to be launched as early as the first week of June, pending final confirmation from launch provider, Arianespace. Following launch and with four more satellites in-orbit, O3b will start commercial service for all O3b customers on a global basis.
Telecom Cook Islands is one customer who did not need to wait for the second set of four satellites in order to introduce O3b services. Telecom Cook Islands has been working with O3b to validate the system performance since launch of the initial constellation in June 2013 and were happy with what they saw—they have now initiated full commercial operation in the Cook Islands via the O3b fleet. Islanders are now experiencing connection speeds comparable with fiber for the first time ever, while 3G networks on the Islands now have the throughput to fuel true mobile broadband.
There's additional information at the O3b Networks infosite.