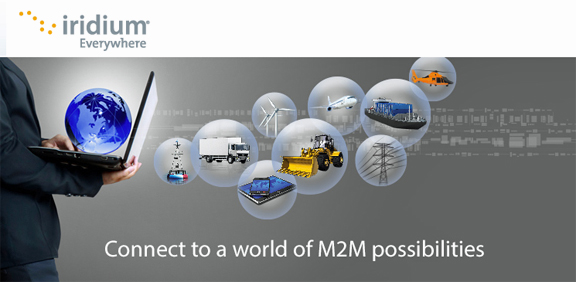 [SatNews] Iridium Communications Inc. (Nasdaq:IRDM) now has an agreement with CNH Industrial N.V.(NYSE:CNHI) (MI:CNHI) to use Iridium® M2M services for its construction brands telematics solutions: CASE's SiteWatch and New Holland Construction's FleetForce.
The deal provides global satellite connectivity for Case and New Holland Construction customers in the construction market, enabling them to optimize deployment and productivity with near real-time fleet and asset monitoring and management.

CASE's SiteWatch and New Holland Construction's FleetForce telematics solutions enable construction users to monitor the location and performance of their assets, enhance security by creating geofences and alerts, reduce maintenance costs by monitoring fleet health, and optimize running costs by monitoring and analyzing fuel consumption. Using Iridium will allow these users to transcend the boundaries of cellular coverage and communicate with their construction equipment—no matter where on Earth it is located. As construction output is expected to grow by more than 70 percent by 2025 in emerging markets, the need for ubiquitous connections to construction equipment is increasingly necessary.
The Iridium M2M offering is powered by Iridium Short Burst Data (SBD), including Iridium's latest chipset technology, which ensures efficient and effective transmission of critical information about fleets and assets. Iridium's M2M business serves the mission-critical enterprise communication needs for global OEMs in addition to after-market solution providers of fleet and vehicle tracking, heavy equipment, container and mobile asset tracking across the transportation, utility, oil and gas, maritime and aviation markets. Iridium now draws about one-quarter of its commercial service revenue from the satellite M2M market.
"CNH Industrial and its brands CASE Construction Equipment and New Holland Construction have a long history of developing technologically innovative solutions, and we're proud that they've selected Iridium to support this latest innovation in their telematics offerings," said Bryan Hartin, Executive Vice President, Sales and Marketing, Iridium. "Our network is the only provider of highly reliable global coverage, and we are committed to providing two-way, low-cost, small form factors that easily integrate into existing telematics solutions and are well suited to construction equipment. This agreement reflects the latest milestone in our accelerating penetration into the heavy equipment industry."
Antonio Marzia, Vice President, Precision Solutions & Telematics Operations, CNH Industrial, said, "As our customers expand their operations into increasingly remote areas of the world, being connected to their fleets is as important as ever. The Iridium network's uniquely broad coverage, low latency and high quality will now be a vital part of our OEM telematics services, especially as they're deployed in new regions."