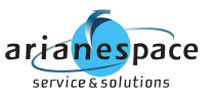 [Satnews] Arianespace's medium-lift Soyuz has moved to the launch pad in French Guiana—and is now ready for integration of its two Galileo satellite passengers at the workhorse vehicle's dedicated Spaceport complex.
With this rollout and vertical positioning of the basic three-stage vehicle, Arianespace's Soyuz marked a key step toward its December 17 mission that will deploy the latest two FOC (Full Operational Capability) satellites for Europe's Galileo space-based navigation system.
Soyuz was moved via a transport/erector rail car in a horizontal-transfer process from the MIK launcher assembly facility to the Soyuz ELS launch complex – located at the Spaceport's northwestern sector within the commune of Sinnamary. Once on the launch pad, Soyuz was erected to the vertical orientation, where it was suspended in place by four large support arms, followed by the transport/erector rail car's withdrawal. With this step complete, the mobile gantry was moved into position around the launcher, providing protection for the subsequent installation of Soyuz' "upper composite"—composed of the two Galileo spacecraft and their dispenser system, the Fregat upper stage and payload fairing.
The December 17 launch—designated VS13 in Arianespace's numbering system—is scheduled to lift off at precisely 8:51:56 a.m. local time in French Guiana, with its Galileo satellite passengers to be deployed during a flight lasting approximately 3 hrs., 47 min. Total payload lift performance is estimated at 1,603 kg.
Flight VS13's passengers were built by OHB System and their navigation payloads were supplied by Surrey Satellite Technology Ltd. The European Commission is managing and funding Galileo's FOC phase – during which the network's complete operational and ground infrastructure is being deployed. The European Space Agency has been delegated as the design and procurement agent on the Commission's behalf.
Additionally, the Intelsat 29e relay platform for Arianespace's first Ariane 5 flight of 2016 is now in French Guiana, enabling payload preparations to begin for a January 27 flight from the Spaceport.
Touching down at Cayenne's Félix Eboué Airport, this passenger—the first of the Intelsat EpicNG high throughput satellites—was delivered to French Guiana aboard a chartered Antonov An-124 cargo aircraft, then transferred by road to the Spaceport.
The Boeing-built Intelsat 29e is now set to undergo final checkout and integration with the launcher ahead of next month's liftoff from the South American launch facility, where Arianespace operates its family of the heavy-lift Ariane 5, medium-weight Soyuz and light-lift Vega vehicles.
As the 56th Intelsat spacecraft to be orbited by Arianespace, Intelsat 29e has the distinction of being a solo telecommunications satellite on a dedicated Ariane 5 flight instead of the typical two-passenger configuration for the launcher on missions to geostationary transfer orbit.
The Ariane 5 flight with Intelsat 29e is designated Flight VA228 in Arianespace's numbering system, representing the 228th launch of an Ariane since this series of European vehicles entered service in 1979.