[SatNews] A new educational satellite has been successfully launched and its first signals have been received at Bletchley Park National Radio Center in the United Kingdom.
The FUNcube-1 satellite was placed into orbit on a Dnepr launch vehicle from Yasny in Russia, at 7:10 AM on Thursday, November 21st. The volunteer Project FUNcube team have confirmed that they have successfully received signals from their FUNcube satellite. The satellite has been built by a number of volunteers from AMSAT-UK over the last four years. Its main aim is to provide a resource for schools and colleges to encourage interest in STEM (Science, Technology, Engineering, and Maths) amongst students.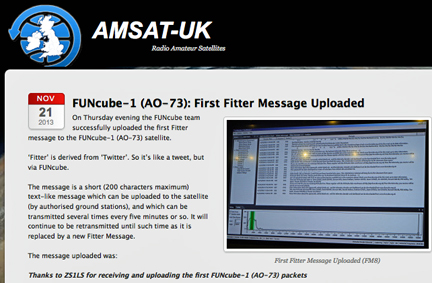 The team at Bletchley Park have been assisted by a global network of other Amateur Radio Stations who have also been listening for the signals, and have reported success in hearing them. The team has been decoding the satellite telemetry and have already successfully sent commands to it.
Graham Shirville, G3VZV, the Project Technical Director, and Jim Heck, G3WGM, FUNcube Project Manager said, "A great deal of hard work from talented volunteer radio amateur engineers went into designing, building and testing this unique satellite and we are delighted that the signals have been received so soon after launch. We are extremely grateful to the network of Radio Amateurs worldwide who have helped us in this task".
FUNcube is the first satellite designed specifically for educational outreach to schools.
Further details about the project can be found at http://www.funcube.org.uk
Further details about AMSAT-UK can be found at http://www.amsat-uk.org