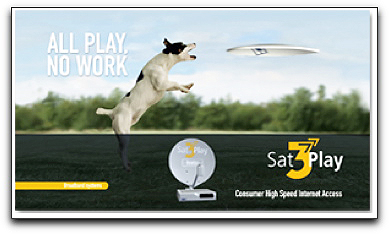 Newtec will unveil next week at IBC in Amsterdam its 4CPM modulation and coding scheme, which dramatically increases the speed and bandwidth efficiency of the return link of Newtec's Sat3Play system.
This system is a low cost solution, providing Broadband Internet Access combined with Voice Over IP services, to home-users in regions where terrestrial DSL infrastructure is not available or of poor quality. The Sat3Play user terminal is extremely cost efficient and self installable by the consumer, using Newtec's patent pending
Point&Play
satellite pointing device.
The introduction of this new modulation scheme is the result of nearly three years of engineering, and was developed in cooperation with the French
Ecole Nationale Superieure des Telecommunications
(
ENST
) and the Italian universities of
Parma
and
Bologna
.
Newtec
's subsidiary
TurboConcept
in Brest (France) designed and implemented the core 4CPM algorithms. 4CPM enables return rates of up to 1 Mbps and higher, which makes the terminal a perfect fit for the consumer market as well as suitable to the professional market. Next to the increase of the return rate, 4CPM also improves the return-link bandwidth efficiency, resulting into a significant lower cost of the used satellite capacity. 4CPM further leverages the robustness and low complexity of the
Sat3Play
system and with the environment in mind, enables at least a 50 percent power consumption reduction compared to industry standard linear modulation schemes such as
QPSK
using output power back-off. All currently installed Sat3Play terminals can be upgraded with the new 4CPM modulation, by simple software download over the satellite.