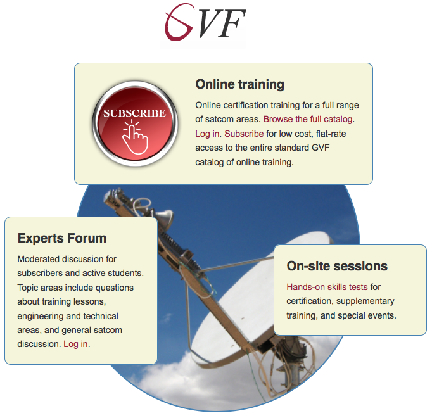 Just launched by the Global VSAT Forum and Intellian is an Intellian Specialist Certification program.
This new course was initiated due to a strong demand for satellite-based maritime connectivity. This offering includes an initial course in terminal operation—GVF 562N—specifically for seafarers. For field techs, follow-on courses will cover such matters as stabilized platform installation and maintenance.
Intellian's marine VSAT terminals offer global broadband coverage to vessels at sea. For maximum service availability, crew operators can now receive Intellian online certification training, enabling them to perform critical operational tasks after the installation technician has departed. In this way, Intellian will use the new course to support its partners throughout the world.

The new GVF 562N course, as well as its prerequisite GVF 561 (marine VSAT fundamentals), are included at no additional charge to all GVF Knowledge Center subscribers and site license holders. These are delivered online, in a self-paced, interactive format. In the new course, trainees will learn fundamental aspects of how to monitor, operate, and perform at-sea maintenance of the v60, v60G, v80G, v100 and v100GX (in Ku-band mode) marine stabilized VSAT terminals.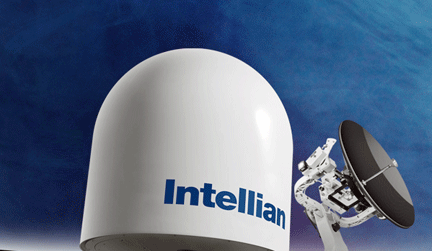 The topics covered include hardware components, principles of operation of the terminal, startup and shutdown procedures, using the front panel operator controls, satellite modem operation, operator-level troubleshooting, and preventive maintenance. General operation and problem solving concepts covered in the course also apply to the v240K, v240C, and v240M antennas.

The course, developed by SatProf Inc, is designed for all radio operators, IT technicians, or other seafarers and crew members who are responsible for operating Intellian Ku/Ka VSAT terminals while underway.

According to David Hartshorn, the Secretary General of GVF, the collaboration between the two organizations strengthens Intellian's customers and partners as well as the maritime communications community as a whole.