[SatNews] Gilat Satellite Networks Ltd. (Nasdaq: GILT) and Intelsat S.A. (NYSE: I) have announced a multi-year, multi-transponder agreement under which Gilat Colombia will use Intelsat Ku-band capacity on Intelsat 907 at 332.5 degrees East to support the Kioscos Vive Digital 2 (KVDII) project.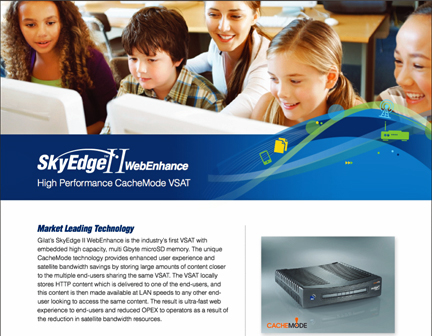 KDVII provides connectivity to rural communities and schools in six regions within the framework of the Colombian Ministry's national Kioscos Phase 2/VIVE DIGITAL project. Gilat's SkyEdge II WebEnhance was selected to be used in four of these, including the regions serviced by Gilat Colombia. Under the agreement between the companies, Gilat Colombia will use Intelsat's satellite services for the three year initiative. As part of the project, Gilat will integrate its SkyEdge II WebEnhance data networking platform with Intelsat's satellite services to provide internet connectivity to 1,903 kiosks within rural communities located in Colombia.

"Satellite continues to provide critical broadband infrastructure to regions where terrestrial technologies are not cost-effective or are unreliable or impossible to use, given geographies," said Carmen Gonzalez-Sanfeliu, Intelsat's Regional Vice President, Latin America. "Gilat's high performing and efficient technology combined with Intelsat's flexible and high-performing satellite services closes that divide and delivers essential internet connectivity and telephony to children and adults in communities across Colombia. The KVDII project is a great example of how the satellite community works together to provide the necessary connectivity to aid in the educational and economic development of fast growing economies, such as Colombia."
Additional information regarding Gilat's SkyEdge II product may be obtained at http://www.gilat.com/SkyEdge-II-WebEnhance
Information regarding Inteslat's Latin American coverage may be found at this infopage.