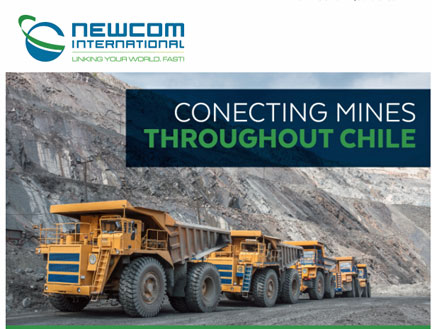 [Satnews] Remote coal and copper mining sites throughout Chile were facing two serious challenges when it came to video, voice and data connectivity: Poor quality and high costs.

The mining sites required robust live streaming applications to monitor and transmit information in real-time from different locations deep within the mines. They also needed reliable voice, data and media streaming services to keep miners connected with family members and entertained during off hours. But they were having a difficult time finding a provider that could deliver the quality, affordable connectivity required.

This is where NewCom International, a SpeedCast Group Company, came into play. Known throughout Latin America for its top quality satellite connectivity solutions, innovative approaches, on-time delivery and competitive pricing, NewCom was selected by a strategic in-county partner to deliver satellite-based voice, video and data connectivity to 20 remote mining sites scattered throughout Chile.

NewCom's satellite connectivity solution provided the mining sites with a guaranteed minimum availability of 99.6 percent, ensuring the critical service continuity required. NewCom's solution also provided much higher bandwidth rates, ensuring high-quality video broadcasts while enabling the workers to send higher volumes of information from remote locations.
"The connectivity services we provided to the first 20 mining sites have been such a success that twenty more sites are currently in the process of migrating to our services," said Carolyn Dickinson, NewCom International Country Manager for Peru who oversees the Chile mining project. "For us, it comes down to a simple business philosophy: Always provide the best solutions for our customers, and always deliver those solutions at the lowest price possible."