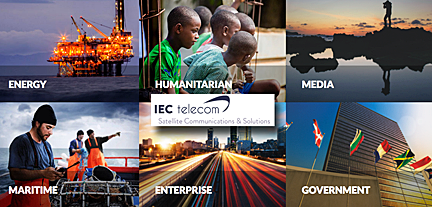 IEC Telecom is partnering with Iridium to deliver their next-generation satellite broadband solution for land-mobile applications.

The service is planned for commercial availability in mid-2018. Iridium CertusSM broadband will deliver reliable, global broadband connectivity and high-quality voice service to the land-mobile industry and IEC Telecom will play a vital role in bringing this service to market by offering easy to deploy, cost-effective, end-to-end solutions for this service.
Iridium Certus will create the first truly globally 'connected vehicles,' allowing drivers to maintain capabilities like real-time vehicle tracking and immediate transmission of telematics information, while supporting internet, phone and email requirements. The solution offers a seamless broadband connectivity experience that can be configured to automatically switch between Iridium Certus or local cellular infrastructure. Unlike geostationary networks with limited global reach and bulky terminals, the unique architecture of the Iridium® constellation, featuring 66 interconnected LEO satellites, enables global coverage and creation of cost-effective, highly mobile, small-form-factor antennas and terminals.
The terminals to provide the deployment of the Iridium Certus solution are now undergoing field customer trials and will soon commence high-rate production, as the customer demand for this new solution is already high.
Gwenael Loheac, COO at Europe IEC Telecom Global, said that the company's partnership with Iridium will bring their new Iridium Certus Voice and Data Services to the market. With the expansion of Iridium's Land portfolio, IEC has an even wider selection of high quality terminals and services to support the critical connectivity needs of the firm's customers. Users from humanitarian missions, public safety and government sector, oil and gas, mining and other industries will be able to experience the new level of mission-critical mobile capabilities, regardless of their location, terrain and weather conditions within which they work.
Josh Miner, VP – Land-Mobile Line of Business at Iridium, noted that Iridium Certus is bringing never-before-possible global connectivity to on-the-move teams with an unrivaled level of dependability. When combined with a Thales MissionLink™ terminal and cellular modem, the service will smoothly transition between satellite and cellular networks. World class partners such as IEC Telecom are instrumental in helping to bring this next-generation technology to the people who will benefit from it most.