Astrobotic has announced that a team led by Airbus has been competitively selected by the European Space Agency (ESA) to study the delivery of a payload package onboard the Peregrine lunar lander around 2025 — the study will analyze Europe's first mission to demonstrate in-situ resource utilization on the Moon.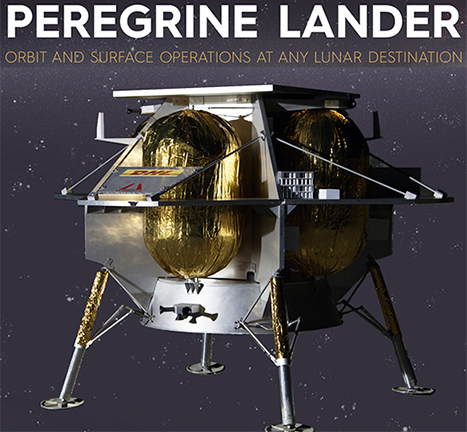 As part of the team, Astrobotic is in charge of showing how the Peregrine lander's international payload delivery service is best suited to carry this ground-breaking European space resources mission to the Moon. The study team also includes Goonhilly Earth Station Limited of the United Kingdom. This selection comes following the recent announcement that Astrobotic has been selected as a 10 year provider to deliver NASA payloads to the Moon through the Commercial Lunar Payload Services (CLPS) program. Astrobotic is the only company to be both selected by NASA CLPS and now by Airbus for this competitively awarded ESA mission study.
Executive Comments
Astrobotic CEO John Thornton said it's incredibly exciting for the company to be selected by ESA. Between the firm's recent win with NASA CLPS, the Astrobotic 12 existing mission deals and now this selection by ESA, it's clear that Peregrine is the market leading lander service for payload customers around the world.
Dr. Oliver Juckenhöfel, VP, On-Orbit Services and Exploration at Airbus, noted that the company is thrilled to have Astrobotic as a partner on this ESA contract. Having independently vetted the Peregrine lander program during multiple technical milestone reviews, Airbus has seen firsthand how Astrobotic is the mature, low-cost delivery service of choice for ESA.
Dr. David Parker, Director of Human and Robotic Exploration at ESA, added that the organization is not going to the Moon alone and the vision for lunar exploration is based on international partnerships with commercial and industrial organizations. This mission study with Airbus and Astrobotic is a prime example of the new wave of space exploration.