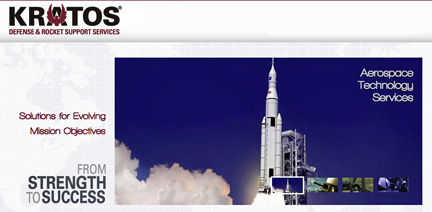 [SatNews] Kratos Defense & Security Solutions, Inc. (Nasdaq:KTOS) has announced that their Defense & Rocket Support Services (DRSS) Division is a key member of the Systems Technology Forum, Ltd. team that was recently awarded a five-year, multiple award contract from the SPAWAR Systems Center Pacific Radio Frequency and Network Systems Support Division to provide satellite communications, radio frequency and navigation systems support services.
The total potential value of the contract award to the team is up to $38.7 million. Kratos believes that several task orders will be received under this contract before the end of 2014. Kratos' DRSS Division is a premier provider of ballistic missile target systems, weapons systems support, engineering, design, analysis, and integration support services, including complex system and subsystem development and full lifecycle support. Major programs Kratos' DRSS Division supports include Hypersonic Vehicles, AEGIS, Electromagnetic Railgun, Chaparral, HAWK, Avenger, and Directed Energy initiatives.
"Kratos brings a highly knowledgeable team with extensive experience delivering effective engineering, design and analysis of satellite communications (SATCOM) systems," said Tim Harmon, Vice President for Kratos' Military Services business. "Kratos has a proven track record of providing advanced SATCOM solutions to the U.S. Navy as well as the other uniformed services and government agencies."
Please visit http://www.kratosdrss.com/ for additional information.