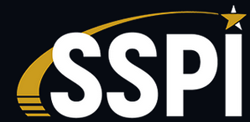 Space & Satellite Professionals International (SSPI) has welcomed five new and renewing Corporate Members of the association.
The companies represent nearly every sector of the space and satellite industry and include Eutelsat, MAXAR, Northrop Grumman Innovation Systems, RKF Engineering, ST Engineering iDirect and The SPACECONNECTION. To view the complete list of SSPI's corporate members, please access this direct infolink...
SSPI corporate members enjoy a wide array of benefits that include unlimited membership for all employees, subscriptions to SSPI video and podcast content, free access to reports on talent development, tickets for free admission to SSPI events, a corporate profile on the SSPI site, and a 30% discount on sponsorship of SSPI events and content.
Executive Director Robert Bell said that a time of fast market change, the organization is very grateful for the broad-based support that SSPI's programs receive across the industry. Whether it is talent attraction and development, or evangelizing the importance of our industry to the world, SSPI's mission is fundamental to the continued growth of commercial space and satellite into the $1 trillion space economy of the future.