[Satnews] Inmarsat and Land Rover are teaming up for the 2015 Land Rover Experience Tour.

Driving the new Discovery Sport, which debuted at the Paris Motor Show earlier this year, three teams of amateur off-road enthusiasts will drive across Australia's Northern Territory, starting on October 19. The experience will be supported by Inmarsat's voice, broadband and machine-to-machine (M2M) mobile satellite services throughout the trek across Australia.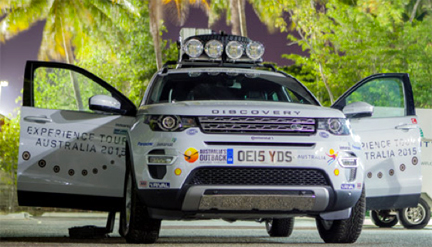 The Land Rover Experience Tour (LRET) offers fans and adventurers an unforgettable experience. The route across Australia's Northern Territory will take each vehicle to areas where there is no terrestrial or fixed network connectivity. From rainforests to rocky gorges, the tour will encounter some of Australia's most diverse terrain and will allow the participants in the Tour to experience both the Land Rover Discovery Sport and Inmarsat technology in the most challenging environments.
Each vehicle taking part in the Tour will be fully equipped with Inmarsat's voice, broadband and M2M satellite services, ensuring the teams are able to share their experiences in real-time with fans across the globe. The Inmarsat technology onboard each vehicle includes:

IsatData Pro—for tracking, monitoring, messaging and telemetry data
Vehicular BGAN—providing general comms-on-the-move (COTM) along with a mesh WiFi network so that drivers and journalists in different vehicles can communicate on the move
IsatPhone 2—for voice communications
IsatHub—smart device connectivity service – enabling drivers and journalists to capture and share experiences en-route and in real time from their own smart devices, through email or social media channels
Executive Comment

"This is a fantastic opportunity to showcase our voice, M2M and broadband products and services in exactly the environment in which they were designed for," said Greg Ewert, President, Inmarsat Enterprise. "The Land Rover Experience Tour will demonstrate the reliability and robustness Inmarsat's services, allowing the participants to remain in constant communication even in the most isolated locations. It will also enable the rest of us to share in their experiences through social media, blogs and videos; with our technology keeping the participants online even when they're off-road."

"Home of Ayers Rock, Alice Springs and Kakadu National Park, the Northern Territory of Australia will demand the most from the drivers taking part in the Tour," said Dag Rogge, Lead Instructor, Land Rover Experience. "It's been great to have Inmarsat come on board. They are a highly valued part of this experience along with CPN who will be providing us with technical support throughout the tour. The provision of satellite communications will hopefully enable us to demonstrate how the Land Rover Discovery Sport handles the diverse terrain of Australia's Northern Territory."