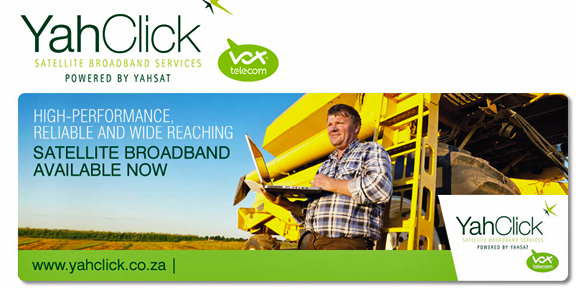 [SatNews] YahClick, the satellite broadband service of UAE headquartered Yahsat, has signed an agreement with international service partner SkyGate to distribute Internet broadband services across the Middle East region.
SkyGate, a Jordanian based satellite communications provider, will offer consumer friendly YahClick broadband Internet service plans to home and business users and the education sector in urban, rural and remote locations in the Middle East region, with download speeds of up to 10 Mbps.

YahClick offers high quality satellite broadband services for home and business users in the Middle East, Africa, Central and South West Asia through its Y1B satellite. With YahClick, subscribers can enjoy uninterrupted high-speed internet anywhere in their coverage area. It is marketed via distribution partners and ideally suited for rural areas that lack terrestrial broadband access and underserved areas. The YahClick active customer base has recorded significant growth of more than 42 percent during 2014. To date, YahClick has acquired almost 34,000 subscribers for its satellite broadband service. The service has so far been rolled out across 12 countries out of its 28-country footprint, seven of which are in sub-Saharan Africa.
David Murphy, Chief Commercial Officer, Yahsat, said, "The demand for widespread access to reliable broadband Internet in the Middle East has never been greater. Internet consumers are rapidly growing in number while becoming more discerning in the types of services they expect, not only home users, also entrepreneurs and business owners across the region. This, coupled with a lack of terrestrial infrastructure, has provided the perfect opportunity for YahClick to partner with SkyGate. Together we will cater to this growing need for connectivity by offering high speed, cost effective and stable satellite internet solutions, which we believe will play a vital role in economic growth, job creation, and social inclusion in the region."
Ashraf Hajjaj, Chief Executive Officer, SkyGate, said, "We look to partner with the best when it comes to offering reliable, high quality internet broadband solutions to our rapidly increasing customer base in the MENA region. YahClick has an excellent track record in this region and beyond, and thus was a natural fit for us. Through this partnership we are able to bolster and grow our services to support current and future clients across a range of sectors including education and oil and gas."