[SatNews] Hiltron has completed a new teleport for the Al Arab News television station at the World Trade Centre in the heart of Bahrain's capital city, Manama.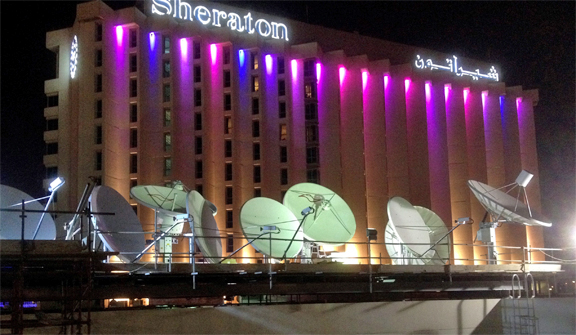 Launching this year, Al Arab News is a privately owned Saudi channel which aims to provide viewers with accurate, unbiased news and information from the region and around the world. The newly installed system consists of seven fixed 2.4 meter Ku-band receive antennas, a 3.7 meter C-band fixed downlink and a motorized 3.7 meter receive antenna with a four-port C-/Ku-band feed. Also incorporated are a Hiltron HMAM motorized antenna mount and Hiltron ACU antenna control unit covering the whole receivable arc. All these receive-antennas are being used for program contribution and feeds.
Two uplink installations are being used for program backhauling in the 13 to 14.5GHz extended Ku-band range. Each is equipped with 3.7 meter motorized ASC Signal antennas with Hiltron ACUs and a tracking system The system, which is protected by full 1:1 redundancy, also includes Newtec M6100 modulators, Work Microwave upconverters and CPI 750W high power amplifiers providing a maximum EIRP of 72 dBW. Hiltron' s HMAM is a motorized high-precision rotatable VSAT antenna mount for use in commercial satellite operations and incorporates professional-grade drives for azimuth and elevation plus a high-accuracy polarization drive.
The Hiltron HACU is designed to control three-axis motorized antennas. The antenna control unit and associated motor-control electronics are contained in an IP65-rated weatherproof outdoor housing with a hinged front access port secured by dual key screws. The HACU can be operated from a PC running a graphic user interface compatible with standard web browsers. The control GUI displays all the information required to set and maintain azimuth, elevation and polarization, including current and target positions plus a database of potential accessible satellites.
For additional information regarding Hiltron, please visit their infosite at http://www.hiltron.de/