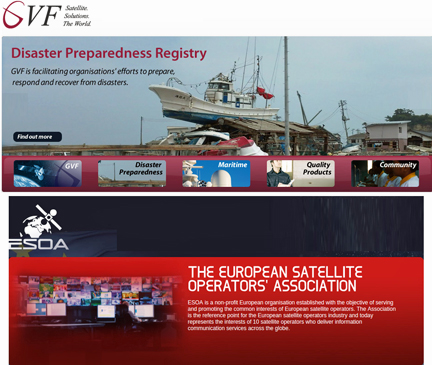 [SatNews] The latest research on spectrum availability has found that a significant amount of spectrum that is available for...
International Mobile Telecommunications (IMT) is not being used because it has not yet been licensed by regulators or is not yet in use by wireless operators.
"The wireless industry's thirst for precious spectrum resources, when additional frequencies are at its disposal, is a serious problem," said a joint statement of the Global VSAT Forum (GVF) and the European Satellite Operators Association (ESOA), two international satellite industry organizations. "What's more serious is that the wireless industry is trying to take additional spectrum—satellite spectrum that is being used to support hundreds of millions of ICT stakeholders—when the wireless industry hasn't used what they already received."
The ICT stakeholders that would be adversely affected by the wireless industry's attempts to take more spectrum include user groups that depend upon C-band satellite services to support mission-critical applications, such as disaster response, civil aviation, and humanitarian education, health and other social services. Increasingly, these ICT user groups are standing up against the wireless industry in preparation for an inter-governmental decision to be made on the issue during next year's ITU World Radiocommunication Conference (WRC-15) in Geneva.
The LS telcom findings are receiving attention from governments throughout the world. The findings are based on a recent study concerning worldwide licensing and usage of spectrum for IMT. The analysis found that in most regions of the world at least 30 percent of spectrum identified for IMT services is not yet licensed for IMT use. Even more surprising is that out of the spectrum that is licensed for IMT use, almost a quarter is not yet in service.
Highlights of the study's findings include:
Most countries have at least 150MHz of additional IMT spectrum that ought to be available right away, yet to be licensed.
Almost every country could make available at least another 200MHz of spectrum that is more widely recognized as being usable for IMT without further IMT allocations at WRC-15. In order to do that, regulators may have to take some action nationally, such as accelerate the pace of digital switchover or other action depending on the country, but this can all be done without the need for any new IMT allocations.
Spectrum in the 700MHz band becoming available for IMT remains to be licensed in most countries and the 2600MHz band, which contains nearly 200MHz of IMT spectrum, remains unlicensed in most countries, with the exception of those in Europe.
Of the spectrum which is licensed, as much as 30 percent has not yet been put into service by network operators.
According to Richard Womersley, Director of Spectrum Consulting at LS telcom and author of the study, "the Study demonstrates that there is not currently a shortage of IMT spectrum; there is a need, however, for regulators to move forward with licensing of spectrum currently allocated for IMT. Until that is done, and there is a fact-based demonstration of the need for more IMT spectrum, there is no clear necessity for action on more IMT spectrum a the next WRC."
LS telcom analyzed the licensing data of over 90 countries and the responses by 20 regulators to a survey on the use of licensed IMT spectrum. The data was compared to the amount of spectrum that should be easily licensed as it is theoretically harmonized, and to the amount of spectrum identified for IMT, which could be licensed and put to use without further allocations.
Copies of the full report can be downloaded from LS telcom at http://www.lstelcom.com/fileadmin/content/marketing/Press_releases/Licensing_and_use_of_IMT_Spectrum_version_101.pdf.
More information can be found at the ESOA infosite http://www.esoa.net and the GVF infosite http://www.gvf.org