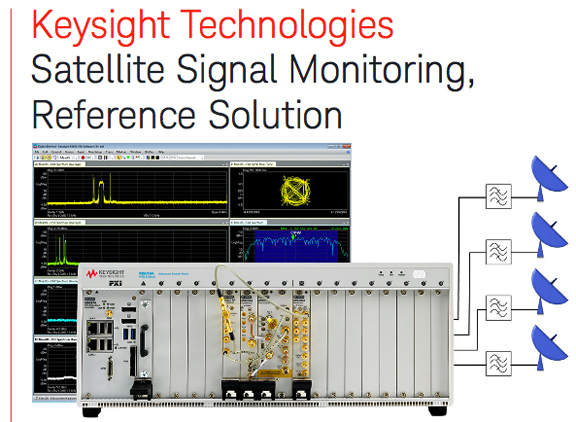 [SatNews] Keysight Technologies, Inc. (NYSE: KEYS) has introduced a Reference Solution for satellite signal monitoring and validation of signal integrity.
The latest in a series of Reference Solutions, a concept developed by Keysight last year, this new Satellite Signal Monitoring Reference Solution enables the engineer to monitor large blocks of spectrum and perform precise digital modulation analysis to quickly and efficiently validate satellite signal integrity. Optimized for high throughput, low test cost, and a small footprint, this Reference Solution is the first to provide sequential scanning using a single PXI vector signal analyzer.

The new Satellite Signal Monitoring Reference Solution uses Keysight's measurement expertise in a combination of PXI hardware and software. The Reference Solution also supports stepped spectrum analysis with 1) the industry's fastest display refresh rates and multi-band scanning at greater than 280 GHz per second, and 2) the ability to zoom in on signals of interest within the IF bandwidth with its industry leading 89600 VSA software. A robust and cost-effective sequential scanning configuration utilizes a single, shared PXI vector signal analyzer to monitor and scan multiple bands.

"This solution is the latest in our series of Reference Solutions aimed at addressing our customers' most critical technical challenges," said Keysight's Mario Narduzzi, marketing manager, Software and Modular Solutions Division. "The Satellite Signal Monitoring Reference Solution is part of our effort to speed test throughput and help our customers reduce test time and overall cost of test."

The M9393A PXIe Performance Vector Signal Analyzer, a high performance hardware component of this solution, offers built-in digital image rejection and noise correction for accurate, clean results up to 27 GHz. Solid-state switching is utilized for fast performance and long life.

The 89600 VSA Software uses Keysight's trusted measurement science expertise to enable extensive signal analysis, including spectrum scanning and zooming in on signals of interest.
For additional information, download Keysight Technologies' solution brochure at this infolink.