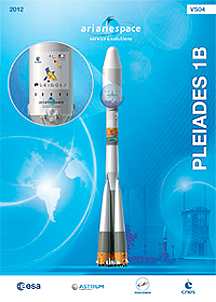 [SatNews] The fourth Arianespace Soyuz mission from French Guiana has been given...
...the green light for liftoff tomorrow night, following the launch readiness review held today. This assessment, performed prior to each Arianespace flight, validated the "go" status of Soyuz and its Pléiades 1B satellite passenger, along with the Spaceport's launch infrastructure and the network of tracking stations that will follow the mission.
Liftoff of the Soyuz on November 30th is set for a precise moment—11:02:50 p.m. local time in French Guiana—initiating a 55-minute mission to deploy Pléiades 1B in a 695km. circular orbit, inclined 98.2 degrees. With a fueled mass of approximately 1 metric ton, the dual-use Pléiades 1B spacecraft will provide optical imaging coverage for French and European defense ministries, institutions and civil users. It is to join the twin Pléiades 1A satellite launched last December by Arianespace on Soyuz' second mission from the Spaceport.
With great agility, a quick-response ground segment and daily revisit capability, the Pléiades system offers a new generation of "real-world" satellite Earth imagery at a resolution of 70cm. France's CNES space agency is prime contractor and architect for the Pléiades system, which is part of a joint effort with Italy—whose Cosmo-Skymed satellite series delivers radar imaging coverage of the Earth. The Pléiades 1A and 1B spacecraft were built by EADS' Astrium division. Participants in the Pléiades program are the space agencies of France, Austria, Belgium, Spain and Sweden; along with the defense ministries of France, Italy and Spain.