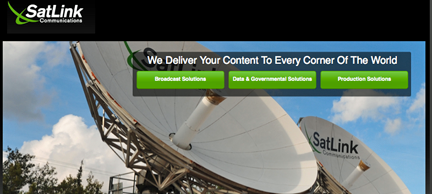 [SatNews] SatLink Communications, a global teleport, content management and HD playout services provider, is showcasing its satellite, broadcast and OTT capabilities at the NRB show on 22-25 February at Booth 554.

With its strategic location in Jerusalem at the crossroads of Europe, Africa and Asia, SatLink will be exhibiting its one stop shop for religious broadcasters including channel origination, global satellite and fibre distribution, productions from the Holy Land and OTT solutions enabling religious Networks full access over the Internet to every platform, on any device.

SatLink's OTT solutions include Multi Screen Technical Delivery services for Live TV and Video On Demand (VOD) aggregation and streaming to all devices. The OTT solutions will offer religious broadcasters transcoding, live content streaming and management tools for mobile and tablet devices on the Apple, Android, Windows 8 platforms and onto PCs and Connected TVs.

The combination of the OTT solutions and SatLink's HD Playout centre in Jerusalem enables SatLink to support media players and operators with end to end broadcast solutions for all their global live, linear and non-linear digital media requirements.

Catering for religious broadcasters such as Apostolic Oneness Network, DayStar, TBN Networks, Angel TV and many other African based broadcasters, SatLink provides global distribution and uplink and downlink services by utilising it global satellite platforms.

SatLink offers a complete production solution specialising in large scale HD production from the Holy Land and provides a full range of services including multi camera crews, equipment rental, location scouting, TV studios, post production, mobile production units (OB Vans) and mobile transmission units (SNG & Fly away) directly from any religious sites straight to audiences across the globe.

At the show, SatLink will also be discussing issues such as the recent growth in Christian religion channels originating from Africa and how, through satellite communications and Internet delivery, these churches are able to share their teachings and reach communities outside of their region.
SatLink's infosite is located at: http://www.satlink.tv/