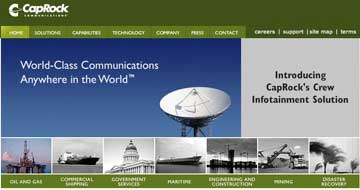 [SatNews] CapRock Government Solutions announced today that it has been awarded four multimillion dollar contracts to provide managed network services and more than 400MHz of commercial satellite capacity to four separate U.S. Government agencies.
The contracts run through
2013
and include requirements for bandwidth, teleport and backhaul services on Ku and X-band networks.
Services provided by CapRock will be used to support a range of missions including airborne intelligence, surveillance, and reconnaissance (ISR), tactical field-deployed communications and continuity of operations.
CapRock leveraged strategic relationships with key fleet operators:
EchoStar Satellite Services L.L.C.; Eutelsat; Paradigm Secure Communications; and SES World Skies
, to secure necessary space segment for the contracts.
CapRock manages a network of 4GHz of capacity on 63 satellites and operates four self-owned teleports in North and South America, Europe, and Asia.
To support the global operations of its clients, the
company runs eleven regional support centers and four Network Operations Centers in different parts of the world.
Additionally, CapRock has taken steps to develop network solutions with military-grade features that have grown increasingly important to users within the
Department of Defense and Federal Civilian agencies
.
"With over 4GHz of capacity on 63 satellites and bandwidth-on-demand at 24 DISN access points,
CapRock can offer its customers greater flexibility and access to more robust network solutions
," said
CapRock Government Solutions President
, Tom Eaton.
CapRock offers its comprehensive value-added products and services under a variety of contract vehicles including all four current satellite services contracts (DSTS-G, GSA, INMARSAT and SATCOM-II) that will eventually fold into the upcoming Future Commercial Satcom Acquisition (FCSA) program.