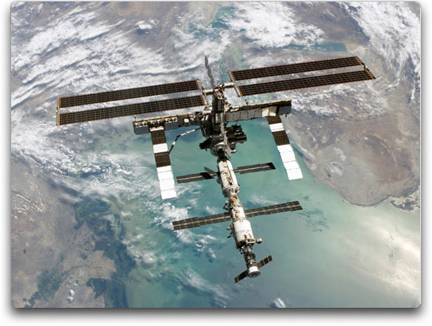 It's not easy evacuating when you're in outer space, especially when a piece of space debris is traveling at a high rate of speed aimed at you.
Such was the situation today, which
thankfully proved uneventful, however not before the Expedition 18 crew members aboard the International Space Station received an all-clear from Mission Control at 12:45 p.m. EDT Thursday after moving to the shelter of their Soyuz landing craft when a piece of space debris was expected to pass close to the station
.
The
precautionary measures were taken shortly after the crew awakened due to space debris that had been determined to be within the range where a collision was possible
, even though the probability of impact was low. News of the close approach came too late for flight controllers to coordinate an avoidance maneuver. A portion of a spent satellite motor was within the distance of the station's debris avoidance maneuver requirement "box."
Crew
members entered their Soyuz TMA-13 capsule and soft-locked the hatches, in case the debris affected the space station and they were required to undock.
The crew would have been able to close the hatches and quickly depart the station in the unlikely event the debris had collided with the station and caused a depressurization. The crew remained in the Soyuz until the debris risk had passed and began reconfiguring station systems for normal operations afterwards.
In other activities Thursday, the crew members enjoyed a light-duty day focused on post-spacewalk and maintenance duties as they await word on when their next visitors will arrive.
A leak in space shuttle Discovery's gaseous hydrogen vent line forced mission managers to postpone the launch until Sunday, March 15 at 7:43 p.m.
Following a successful spacewalk Tuesday, Commander Mike Fincke and Flight Engineer Yury Lonchakov dried and stowed their Russian Orlan spacesuits. They also continued to reconfigure systems in the Pirs docking compartment and put away various spacewalk tools and equipment.
Flight Engineer Sandy Magnus completed routine station maintenance activities and recharged spacesuit batteries. Magnus, as well as the other station residents, performed her daily exercise sessions to counteract the effects of long-term exposure to the microgravity environment of space.
Fincke also had some time set aside to conduct an amateur radio session with students at Sewickley Academy at Carnegie Science Center in Pittsburgh. He answered a variety of questions about work, science and daily life on the station.