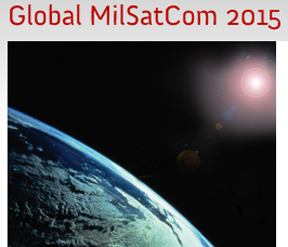 [SatNews] Due to the growing threats to national space assets and exploitation of space as a part of political and military warfare, Global MilSatCom 2015 will provide the ideal platform for senior international military and government representatives to discuss current challenges and threats facing the SATCOM community and get an exclusive outlook of the latest technology, equipment and services the industry has to offer.
The UK Minister of State for Defence Procurement, Philip Dunne, will deliver the opening keynote address at this year's Global MilSatCom conference and exhibition, which takes place from November 3rd through 5th in London.
The Minister of State for Defence Procurement will be supported by other ministers from the Ministry of Defence including Air Commodore John Philliban, Head of Joint User C4ISR, Joint Forces Command, who is also lined up to attend and deliver a keynote address on day one of the conference.
Rick Greenwood, Head of Satcom Engineering and Operations of Airbus Defence & Space will also be discussing the future of UK MilSatCom as he presents on: Meeting the Future UK MilSatCom Technology Challenges Today
The presentation will examine:
Skynet 5 overview
How Airbus Defence and Space helps develop the UK Milsatcom capability
Technology roadmap & network evolution
Accommodating future needs
The three day agenda also features an unrivaled speaker line-up including: Polish Armed Forces, DGA France, Canadian Department of National Defence, US Air Force, United States Strategic Command, Bundeswehr, Royal Netherlands Army, Nigerian Navy, Philippine Navy, New Zealand Defence Force, MoD Japan, NATO Communications and Information Agency plus many more.
Click here to view the latest conference program...
For further information please visit http://www.globalmilsatcom.com/