Inmarsat has granted full Type Approval for Skyware's ATOM 99 terminal for use over Inmarsat's new, globally available, high-speed broadband service—Global Xpress (GX).

Skyware's ATOM 99 terminal will enable media and broadcasters to take the new lightweight, portable receiver dish to where the news is happening anywhere in the world. The terminal will provide high quality live broadcast capabilities in even the most inaccessible regions.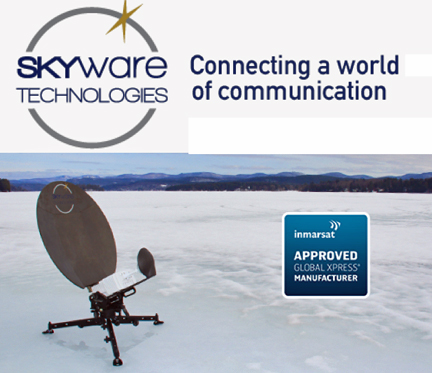 The terminal, manufactured by Skyware Technologies, features a receiver dish measuring 99 cm in diameter, making it the most-powerful portable Global Xpress (GX) terminal for the Enterprise market to date. The terminal is of rugged design as well as lightweight and is coupled with pointing assistance for repaid satellite signal acquisition makes it ideal for quick deployment to deliver high speed broadband access anywhere it is needed. The terminal can be set up and online in minutes and may be assembled without the need for any tools or specialist training.

The ATOM 99 features a dual-offset antenna which, alongside its 99 cm reflector, provides maximum efficiency and best possible radiation characteristics for improved data throughput and availability.
All of the Atom range of GX terminals employ a dual reflector design, allowing them to offer performance advantages over larger, single reflects, all the while remaining compact and lightweight, according to the CEO of Skyware Technologies, Oliver Kroner." I consider the Atom 99 to be a key terminal for Inmarsat's GX success and predict rapid and significant deployment on a global scale."

Greg Ewert, President, Inmarsat Enterprise, said,"Skyware Technologies' terminals are a key part of making our Global Xpress service a success and I foresee a considerable appetite for this terminal in many of the market sectors we serve, but particularly from media and oil and gas customers."