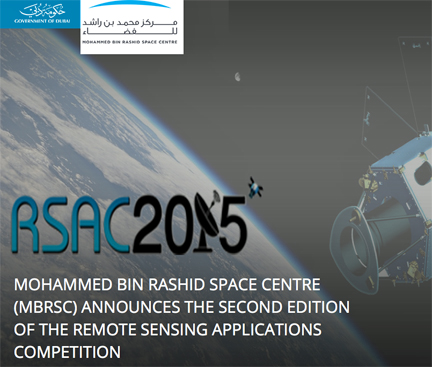 [Satnews] MBRSC announced the final design completion of the KhalifaSat Engineering Model in addition to the software and systems within the satellite (Critical Design Review).
The significance of this achievement is that this is the step prior to the manufacturing of the flight model of KhalifaSat, which is scheduled for launch in 2018 on MHI's H-IIA launch vehicle which is owned by Mitsubishi Heavy Industries. In addition to the flight model of KhalifaSat, Emirati engineers will start the development of the ground station programs that will manage all post launch communication with the satellite.
The "KhalifaSat" project includes seven space innovations ranging from enhancements to the digital camera with an enhanced light meter for better image resolution and the development of techniques to increase image download and communication speed from the satellite for reception anywhere in the world. Further enhancements include the development of satellite positioning techniques that will allow for the capture of a higher number of 3D images, a target positioning system that makes KhalifaSat one of the best satellites in the world to provide high-quality images, with high-speed response and an accurate location system. KhalifaSat innovations also includes the development of automatic satellite control system through upgrading the primary satellite computer's operating system and increasing storage capacity.
H.E. Yousuf Hamad Al Shaibani, Director General, MBRSC, said, "The completion of the final design of the engineering model by the KhalifaSat team is a major milestone, not only in developing this satellite; it is an achievement for the entire satellite manufacturing sector in the UAE. The success of Emirati engineers in leading and executing this project is a testament to the skills they gained from the previous two projects, especially since KhalifaSat is the first practical step in manufacturing an Emirati satellite built by Emirati expertise in Space Technology Laboratories in Dubai."

He also said,"under the support and guidance of our leadership and access to the appropriate resources, the satellite manufacturing sector continues to grow in the UAE in line with the highest world-class standards and practices to enhance levels of production and competitiveness. All these efforts culminated in the realization of the sectors' strategic goals and future vision to play an active part in the enhancement of a sustainable local economy, building advanced scientific abilities and a world-class infrastructure to achieve a unique and leading position stemming from our leadership's vision."