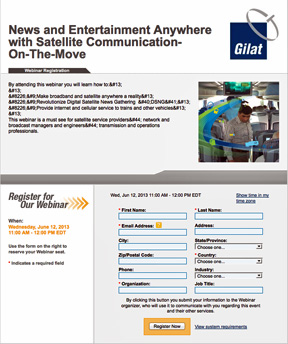 [SatNews] Join Gilat for a free live Webinar on June 12th, 2013 from 11:00 a.m. to 12:00 p.m. EDT and learn more about
"
News and Entertainment Anywhere with Satellite Communications-On-The-Move."
Satellite Communication-on-the-Move
(
SOTM
) enables continuous and reliable coverage when traditional solutions simply are not an option. To learn about the benefits and technologies involved, join in with this free webinar hosted by
Miki Barak
, Director of Satellite-on-the-Move Antennas, and
Doreet Oren
, Director of Product Marketing. They will explain—in detail—the challenges of providing communication and entertainment to travelers, as well as shed light on what is required for satellite broadcast of live news from the field. For example,
How do you provide entertainment and broadband connectivity for long distant travelers by train or bus?
How do you broadcast real-time information from hard-to-reach locations?
By attending this webinar, you will learn how to:
Make broadband and satellite anywhere a reality
Revolutionize Digital Satellite News Gathering (DSNG)
Provide Internet and cellular service to trains and other vehicles
This webinar is a must see for satellite service providers, network and broadcast managers and engineers, transmission and operations professionals
Upon registering you will receive a confirmation email with directions for joining the Webinar. Space at the Webinar is limited, so please
select this direct link to reserve your seat
right away.