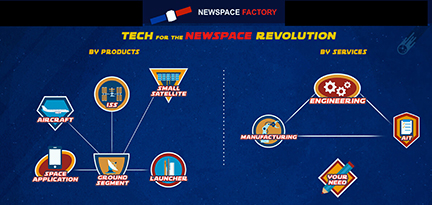 Coordinated by the Aerospace Valley competitiveness cluster, Anywaves, Callisto, Comat, CS, ECA Group, Erems, Mecano ID, Nexeya, Syntony GNSS and TRAD have combined forces, under the coordination of the Aerospace Valley competitiveness cluster, to create the Newspace Factory Hub of space enablers.
Newspace Factory's goal: connect the French space ecosystem with international markets to make space technology accessible to all and to add their support to the New Space revolution. Newspace Factory is a story of synergy between its current ten member companies and international markets. Member companies are experienced and agile in the New Space market and they have a shared wish to contribute to the evolution and development of satellite constellation technology through the provision of their technological expertise and advanced services.
Combined, Newspace Factory members have contributed to more than 250 space projects, including 40 that are currently on-orbit. They bring together a unique industrial capability, from ground segment to orbital segment of a project. OneWeb, Pleiades NEO or Insight are all recent projects that have solicited Newspace Factory expertise.
With unique strengths and agile organization, Newspace Factory is uniquely positioned to continue to support entrepreneurs and businesses in the commercial space sector. Newspace Factory has simplified access to, and communication with, the industrial chain of the French space sector via an online offering: www.newspace-factory.com. The website presents up to date information on the products and services available, space qualifications, technical characteristics and delivery time limits. Most importantly the website provides a simple point of access and communication to the skills, expertise, products and services available across Newspace factory's member companies. The Newspace Factory group will complete this offering in the coming months.
Newspace Factory is located in the heart of the European capital of the space industry, Toulouse, an ecosystem that has developed major public and private programs. A place that also brings together engineering schools and laboratories recognized worldwide.
Executive Comment
Grégory Pradels, Newspace Factory Manager at Aerospace Valley, said the organization's goal is twofold — first, give the floor to players in the SME markets which we do not speak to enough compared to startups. Second, to contribute to the development of the commercial market beyond the French borders. The organization hasadvanced technologies and services and are writing a new chapter for the Toulouse space industry.