[SatNews] Agilent Technologies Inc. (NYSE: A) is collaborating with Nippon Avionics (Avio) on the co-development of enhanced thermal imager solutions—the first product of their collaboration is the Agilent U5855A TrueIR thermal imager, a handheld thermal imager solution.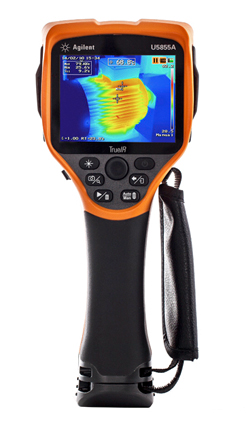 The two companies jointly developed the unique U5855A, fusing the best of each company's technology and expertise. Avio brings more than 40 years of thermal imager design, market and application knowledge to the partnership. Agilent offers handheld tools that are rugged and ergonomic, with unique functions that simplify the way engineers work. The addition of the thermal imager to Agilent's handheld instruments portfolio expands its reach into industrial markets, enabling the company to offer customers a one-stop center for their application needs.
The U5855A TrueIR thermal imager provides clear and sharp thermal images with its unique Fine Resolution capability, which enhances the quality of thermal images by reconstructing the image based on multiple continuously captured infrared frames. The U5855A comes with a light and ergonomic design to allow engineers to comfortably use the thermal imager for longer periods of time or even one-handed operation in tight locations.

Additional information about the Agilent U5855A TrueIR thermal imager is available at http://www.agilent.com/find/trueIRimager_pr.