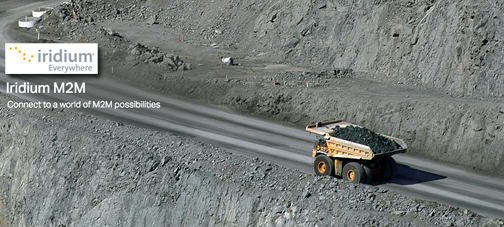 Now all set to provide the world's second largest manufacturer of heavy equipment for the construction and mining industries—Komatsu Limited—is Iridium Communications Inc.
This agreement will enable Komatsu to integrate their vehicle monitoring system, KOMTRAX, with the Iridium ® network to further extend the firm's reach into global markets that are currently not served by the company. Iridium will provide global asset tracking and monitoring for Komatsu' KOMTRAX system, a system with more than 400,000 vehicles in the field today.

The service will provide real-time vehicle location, health, diagnostics and proactive maintenance data from anywhere in the world, even where cellular infrastructure is compromised. This long term agreement ensures that Komatsu has access to the most reliable global network for off-road telematics and, with the help of Iridium's low cost, low power and versatile M2M devices, Komatsu will continue to provide its customers with world leading maintenance services.
To date, Iridium M2M services are in use by seven of the top 20 heavy equipment OEMs (original equipment manufacturer) in the world. Forecast to be a $181 billion dollar global industry in 2016, heavy equipment is challenged by the current global economy, but is looking to telematics as a way to drive efficiency and value for their customers, dealers and resellers. As the adoption and implementation of satellite-enabled telematics and asset tracking solutions continues to grow across multiple industries, the need for global and reliable communications solutions will increase, further establishing Iridium's foothold as a leader in this space
According to Ichiro Nakano, Executive Officer and Vice President, Development Division, and Vice President, ICT solution division at Komatsu, a single communication service cannot satisfy his firm's needs. By adding Iridium, Komatsu will be able to diversify and expand their global network to support construction and mining equipment that is used in every possible harsh and remote place on the planet."
Tim Last, the Vice President and General Manager, M2M/IoT at Iridium, added that this new contract reinforces the firm's relationship with Komatsu and provides further validation for Iridium's leadership in core M2M/IoT satellite technologies," said . "As a technology provider, Iridium is setting the industry standard for two-way, small-form-factor devices that easily integrate into a wide range of solutions.