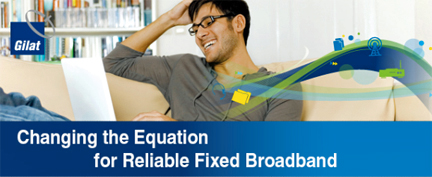 [SatNews] Reliable broadband connectivity is a challenge in underserved areas. Upgrading the existing network is one solution, but this is a costly proposition that often does not stand up to a cost-benefit analysis.
Capitalizing on the asymmetrical nature of home usage data traffic, Gilat has introduced an innovative hybrid satellite-cellular terminal to provide high speed broadband access. This solution leverages existing networks and provides growth paths for MNOs, DTH providers, and satellite ISPs. To hear more about transforming the data traffic challenge into an opportunity, you are invited to attend an exciting webinar presented by Gilat's Yoram Ofri, Director, Cellular Markets, and Doreet Oren, Director of Product Marketing. Join this free webinar to learn how:
MNOs can leverage their existing infrastructure while offering high speed broadband
DTH providers can offer triple play and VOD services
ISPs can increase ARPU and customer loyalty by offering affordable, high-speed, fixed broadband Internet services
All providers can slash end-user CPE costs dramatically
Upon registering, you will receive a confirmation email with directions for joining the webinar.
Title: Changing the Equation for Reliable Fixed Broadband
Date: Wednesday, December 3, 2014
Time: 10:00 to 11:00 a.m., Eastern Standard Time
The presenters include Yoram Ofri, Director, Cellular Markets, and Doreet Oren, Director, Product Marketing.
To register for this limited seat webinar, please access this infopage link.