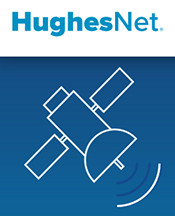 For the fourth consecutive year, HughesNet® earned top rankings in the Federal Communications Commission's (FCC) Measuring Broadband America report.
HughesNet is the flagship satellite internet service for consumers and small businesses from Hughes Network Systems, LLC (HUGHES. The newest Measuring Broadband America reports examine actual versus advertised speeds of fixed broadband services nationwide and found HughesNet ranked No. 1 among all ISPs for meeting or exceeding advertised download speeds, four years in a row (2014, 2015, 2016, 2017). For three out of four years (2014, 2015 and 2017), HughesNet ranked No. 1 for meeting or exceeding both download and upload advertised speeds.
Measuring Broadband America is part of the FCC's effort to ensure consumers transparency from their ISPs about network performance. An industry benchmark, the reports evaluated 14 satellite, DSL, cable and fiber internet access providers that serve more than 80 percent of the U.S. residential marketplace.
In the most recent report, which covered 2017 data, HughesNet service captured the top spot for both download and upload metrics. HughesNet consistently met or exceeded advertised speeds, delivering 180 percent of advertised download speeds and nearly 200 percent of advertised upload speeds.
Among satellite broadband providers reviewed by the FCC in the latest report, HughesNet Gen5 (the currently available service offering) ranked first in all 11 performance categories measured, including consistency of speed, latency and average webpage download time.
HughesNet service plans are designed to deliver download speeds of 25 Mbps and upload speeds of 3 Mbps, consistent with the FCC definition of "broadband."
Hughes invented the commercial VSAT and pioneered consumer satellite internet service and the technology to support it — from satellites to gateways to modems. The FCC's ranking is a testament to Hughes 30-plus years of experience in advancing the state-of-the-art in satellite technology and delivering an innovative, connected experience for customers everywhere.
Executive Comment
Mike Cook, SVP, Sales and Marketing, Hughes, noted that, once again, HughesNet is at the top of the list of all types of internet providers — including satellite, DSL, cable and fiber — and this is a reflection of the company's commitment to do what they say they will do and providing the best possible service to customers. Hughes continuously monitors and enhances user experience and constantly works to improve speeds and reliability to deliver a high quality broadband service.