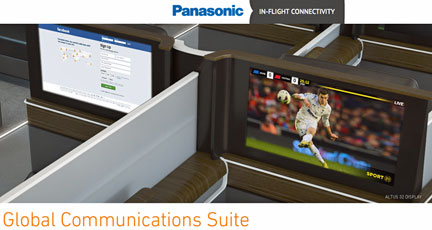 [Satnews] Panasonic Avionics Corporation (Panasonic) and Teledyne Controls (Teledyne) have announced a strategic partnership to develop an integrated connectivity solution that will enable real-time operational aircraft data transfers during flight.
The companies will combine Teledyne's Wireless GroundLink® Comm+ product suite with Panasonic's Global Communications Service to provide cost effective connectivity during flight or at the gate. This enhanced offering will leverage both Ku-band service and GSM cellular, enabling aircraft operators to break free from the bandwidth limitations and high transmission costs associated with traditional data communications systems. When combined with Panasonic's Weather Solutions application and Teledyne's GroundLink AID+ solution, real time weather can be delivered to the flight deck, resulting in enhanced safety and increased flight efficiency.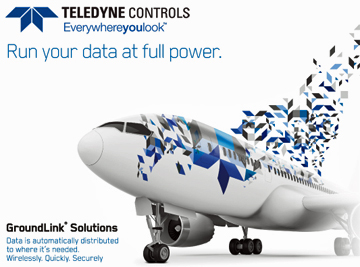 In addition, the companies plan to further enhance the value provided by their existing platforms to enable new levels of efficiency in maintenance, flight, and cabin operations, with a suite of data automation solutions. The agreement provides an opportunity for real time flight data transmission, in essence the live streaming of flight data that could immediately determine the operational status of the aircraft. Other areas of collaboration include ACARS AOC data over IP, avionics software distribution, and an onboard aircraft interface that supports EFB and crew mobile device platforms.
Executive Comments

Paul Margis, President and Chief Executive Officer of Panasonic Avionics, said, "Our agreement with Teledyne is yet another example of our vision for the connected aircraft and its benefits for the commercial airline community becoming reality. With this agreement, Panasonic and Teledyne will create a unique service that uses real-time data transmission to create operational efficiencies and reduced costs for our customers. We look forward to working with Teledyne on a host of new capabilities that even further improve the way our customers are able to operate their business."

Masood Hassan, President of Teledyne Controls, said, "This agreement signals an exciting new future for both companies. Teledyne is the industry leader in supplying flight data management and cellular wireless connectivity solutions that enhance airline efficiency and flight safety. Working with Panasonic and adding best-in-class airborne connectivity will take what is possible to another level, including the transmission of critical flight data from the aircraft to the ground. Our systems together will provide aircraft operators with a new world of possibilities."