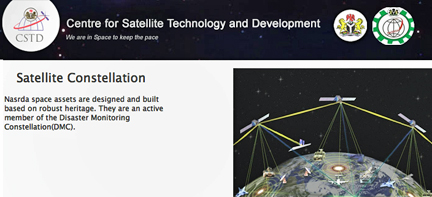 [SatNews] The Centre for Satellite Technology Development (CSTD) in Abuja, Nigeria, is ready to hold its 2014 Annual CSTD Space Week Conference from June 3 to June 5.

The CSTD Director, Dr. Spencer Onuh, said the theme of the conference is "Sustainable Socio-Economic Benefits of Space Technology." CSTD is an activity center under the National Space Research Development Agency (NASRDA) with a mandate is to develop indigenous satellites and capacity. Onuh said that the focus of the conference would be on innovative small satellite programmes for developing nations. The event aims at providing a forum for creating awareness about the socio-economic benefits of space technology, its products, services, developments and contributions to daily life.

"It also aims to serve as an interface to encourage and facilitate collaboration and partnership between the space sector and relevant private/public sectors as well as professionals," Dr. Onuh said.

Onuh said the conference also had the sub-themes "Space Science and Application; Capacity Building and Space Enterprise, Space Systems and Aerospace Materials and Component Miniaturization". He said that the sub-theme would dwell on military, security and monitoring operations, energy and environment, Remote Sensing and Geographical Information System (GIS) among others.

He added that Space System would dwell on Earth Observation satellites, communication satellites, navigation satellite, software, ground segment design and management as well as mission analysis, planning and design. Onuh said that Capacity Building and Space Enterprise sub-themes would treat space education and sustainable development and frontline research as critical components of space capacity development. He also said that the focus of Aerospace Materials and Component Miniaturization would be the testing, verification, evaluation and validating new technologies in simulated orbital environment and emerging technologies in semi-conductor devices.
Additional information regarding CSTD is available at http://cstd.nasrda.gov.ng/
(Source: AllAfrica Global Media—allAfrica.com)