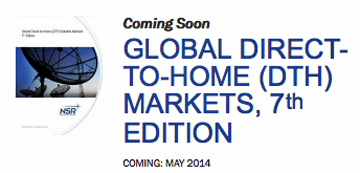 [SatNews] NSR's Global Direct-to-Home (DTH) Markets, 7th Edition, provides industry-leading analysis on the Satellite Television markets worldwide.
Delving into the numbers—ARPUs, subscribers, TV households, and more—DTH7 combines this with insights from key industry players to provide a comprehensive view of the Global DTH market as it is today, and as it will be moving forward. Some of the key questions addressed in the study include:
With falling global ARPUs due to millions of low-paying subs bringing down the average, how can platforms best position themselves to create a business model focused both on subscriber growth, and growth of average subscriber ARPU? How quickly and universally will technologies like UltraHD be adopted, and in which regions? Which emerging DTH markets provide the most ample opportunities for DTH platforms, satellite operators, and other relevant parties, and how can these opportunities best be addressed? How has the analog-to-digital transition affected middle-income countries, and how will this bode for lower-income countries that have yet to make the switch to digital? Will the DTH industry continue to witness consolidation, in both established and emerging markets? And in which markets is it expected that smaller players may start to emerge, splintering the market?
Global Direct-to-Home (DTH) Markets, 7th Edition, provides in-depth assessment and forecasting using both primary and secondary research, and includes figures for:
TV Households & DTH Subscriber figures from 2013 - 2023
SAC, ARPU, and Subscription Revenues for DTH and satellite Pay-TV Platforms through 2023
SD, HD, 3D, and Ultra HD Channels & Transponder Demand Trends & Forecasts to 2023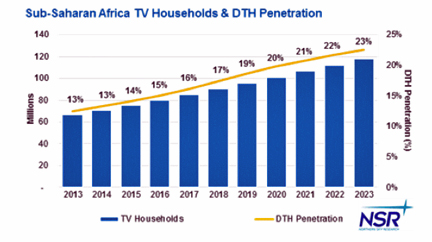 While many global DTH markets are witnessing trends of consolidation and maturation, leading to some degree of stagnant growth, others are proving that there is still a significant subscriber base worldwide that is hungry for digital television content, and in many cases DTH is the only method of delivery. DTH7 provides a comprehensive breakdown of where this subscriber base will arise from, and where the additional ARPUs and subsequent revenues will be found.
With these new subscribers craving better and more specialized content, such as HD sports packages, channel numbers will grow at robust rates. In addition to forecasts for SD and HD channels, DTH7 also provides significant commentary, analysis, and forecasting for emerging technologies such as UltraHD, segmented regionally.
With the DTH market more competitive than ever, and with consumers demanding more and better content, NSR's Global Direct-to-Home Markets, 7th Edition, proves to be an exceptional guide for navigating through the jungle that is the global DTH market. With nearly $130B in subscriber revenue expected by 2023, DTH 7th Edition gives the reader a comprehensive picture of where the growth is coming in terms of revenues, APRUs, and channels.
For further information, please visit http://www.nsr.com/research-reports/