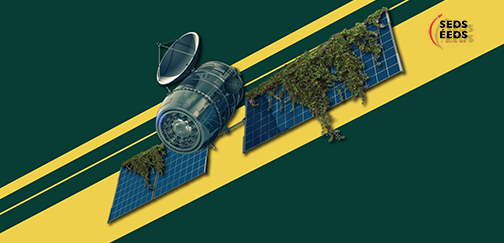 Ascension, an annual space conference, brings together students, researchers, and industry professionals for a three day event.

This conference attempts to close the gap between industry and students by creating a place for students to find their own place in Canada's space industry. Ascension has been held annually since 2015, with the most recent event held at the University of Toronto. In an effort to extend our reach west, Ascension 2019 will be held at the University of Alberta from March 1 to 3, 2019, in partnership with AlbertaSat (ISSET-S) and the Undergraduate Astronomy Society. Ascension 2019 is open to the public.
Sustainability on Earth and in Space
The theme of Ascension 2019 is Sustainability on Earth and in Space and will focus on how we can use technology developed for space or space research to help us be more sustainable on Earth. A major part of this focus also includes sustainability in space itself.
Although Ascension is a full-blown space conference, a major focus is on student involvement. Ascension allows students to present their current research, learn from experts, and network with industry professionals. The conference program will include talks, workshops, and social activities. The final presentation and judging of the YSpacE competition will also take part at Ascension. Top teams will be invited to present their business concept in front of space research and industry experts. Ascension 2019 aims to bring 100 individuals together, mainly from BC, Alberta, and Saskatchewan. This will hopefully strengthen Western Canada's interest and involvement in space exploration activities.
Over the course of the conference, there will be social events, panel discussions, presentations (including a keynote from Dr. Bob Thirsk) as well as a student space teams expo.