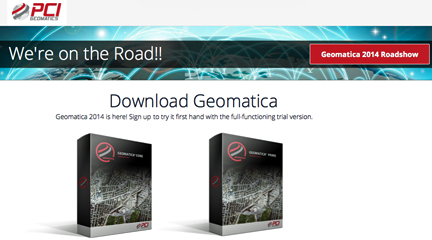 [SatNews] PCI Geomatics, a developer of remote sensing and photogrammetric software and systems, has announced a series of online and live events focused on the Geomatica 2014 software release.
The Geomatica 2014 Roadshow will provide an opportunity for customers, partners, and interested end-users to engage with PCI Geomatics staff as they provide information on the new capabilities of Geomatica 2014. A full schedule and information about the events can be found at http://GetGeomatica.com/.
New features in Geomatica 2014 include: Live DEM Editing, which lets users see and edit DTM errors on an automatically updated, live ortho-preview; Smart GeoFill, which facilitates the retouching of ortho-mosaics while maintaining full geo-referencing, channel combinations and bit-depth; and Python scripting, which allows customized code that combines image processing with other tasks to streamline data management applications, generate intelligent business products, or customize output for a variety of GIS applications.
The Geomatica 2014 Roadshow kicked off on June 19th with the official software release and launch event hosted by PCI Geomatics in the Ottawa region—details and photos of which may be viewed at http://GoGeomatics.ca/, along with the full list of Geomatica 2014 Roadshow events.