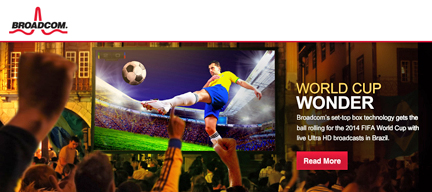 [SatNews] Broadcom Corporation (NASDAQ: BRCM has enabled live Ultra HD satellite broadcast of the 2014 World Cup in collaboration with Globosat, a multichannel cable and satellite TV service in Brazil, and Elemental, a leading supplier of software-defined video solutions for multiscreen content delivery.
The special live broadcast of the final three matches of the World Cup, made available by Globosat to selected subscribers and payTV operators in Brazil, demonstrates growing interest in Ultra HD technology, which can deliver 4X the resolution of traditional 1080p60 HD displays. The special broadcast is the first to deliver market-leading Ultra HD (4k) display resolution speeds of 60 frames per second (4Kp60), which provides 2x the speeds of current displays for fluid, life-like movement and includes a 10-bit Rec 2020 color standard to deliver deeper, richer color gradation. The combination of improved picture quality and color clarity is ideal for live-action viewing such as major sporting events and in-home theatrical content.
"Our collaboration with Globosat and Elemental to bring a live Ultra HD broadcast of the World Cup to viewers validates the demand for Ultra HD in 2014 and beyond," said Rich Nelson, Broadcom Senior Vice President of Marketing, Broadband Communications Group. "This underscores the value of Broadcom's innovative silicon to deliver the highest picture quality and ultimate viewing experience to home viewers globally."
"Globosat leads the Brazilian payTV segment with high quality programming, including live action sporting events, and we are excited to deliver a live Ultra HD broadcast of the World Cup games," said Roberto Primo, CTO of Globosat. "Broadcasting the World Cup in 4k resolution is an important part of our effort to contribute to the evolution of the TV viewing experience in Brazil. Partnering with Pay-TV operators that share this goal also allows us to deliver Ultra HD to an even wider viewer audience in the future."
Broadcom, Globosat and Elemental Demonstration Details
Broadcom, Elemental and Globosat have deployed an end-to-end 4K HEVC workflow
Satellite uplink and signal receiving systems provided by Globosat
Decoding provided by Broadcom's flagship video decoder system-on-a-chip (SoC) with high efficiency video codec (HEVC) compression, 60 frame-per-second resolution and 10-bit color standard
Encoding provided by Elemental® Live video encoders
Recording and display provided by 4K digital cinema cameras for playback on commercial 4K TVs
Broadcom's BCM7445 Ultra HD SoC is currently in volume production.
Please visithttp://www.broadcom.com for more information.