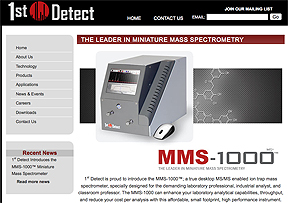 [SatNews] 1st Detect Corporation, a subsidiary of Astrotech Corporation (Nasdaq:ASTC), has completed the delivery and installation of a...
...miniature mass spectrometer (MMS-1000™) to NASA's Johnson Space Center in Houston, Texas. This instrument is a breakthrough in ion trap technology that brings laboratory quality analysis to remote and harsh locations. "From inception, the technology developed by the team at 1st Detect was designed to meet the demands of harsh environments." said David Rafferty, the President and CTO of the Company. "In addition, these stringent requirements enable a variety of applications outside of the laboratory in environments where traditional mass spectrometers are unable to operate."
1st Detect Corporation has developed an instrument that revolutionizes the chemical detection and analysis market by delivering lab performance mass spectrometry in a highly accurate, rapid, lightweight, and cost-effective instrument. The 1st Detect mini mass spectrometer's broad capabilities make it an ideal tool for a variety of applications in the research, security, industrial, process flow and healthcare markets; and is capable of detecting a wide variety of chemicals including residues and vapors from explosives, chemical warfare agents, toxic chemicals, food and beverage contaminants and pollutants.