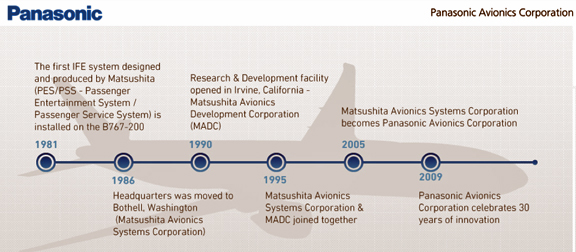 [SatNews] An A380 line-fitted with broadband in-flight connectivity service from Panasonic Avionics Corporation (Panasonic) has been delivered to Lufthansa.
The A380, was fitted at Airbus with Panasonic's award-winning Global Communications Services. Over the next 12 months, Panasonic will equip an additional 11 linefit A380s with its global connectivity service.

David Bruner, Vice President of Global Communications Service at Panasonic, says: "For the first time, A380 passengers will be able to experience truly global, full broadband connectivity that's only available from our Ku-band Global Communications Service. Our unique service lets passengers browse the Internet, access their VPN, and send email at high speeds, giving them a service similar to what they would expect on the ground. Panasonic's inflight connectivity is supported by a satellite network that covers over 99.6 percent of commercial flights meaning that passengers on this increasingly popular aircraft will benefit from high speed connectivity virtually everywhere they fly."

For the A380, Panasonic's in-flight Wi-Fi provides two-way broadband communications to an aircraft and allows passenger to surf the Internet, email, access social networks. It also enables other crew and passenger applications. The aircraft will also feature Panasonic's global, live eXTV television service and a channel lineup that delivers Al Jazeera, BBC World News, CNBC, CNN International, EuroNews, NHK World Premium, Sky News Arabia and Sport 24, to passenger devices and high resolution displays in every seat.
Additionally, Panasonic Avionics Corporation (Panasonic) has opened a new world of airline ancillary revenue opportunities with the launch of AdConnect, a pioneering addition to Panasonic's portfolio of OneMedia Advertising Solutions.
Until now, advertising solutions have typically enabled airlines to serve content to their in-flight Wi-Fi portal. AdConnect takes this to a new dimension by allowing airlines to generate advertising revenue throughout the entire duration of an in-flight Wi-Fi session, even after a passenger leaves the airline portal and begins to surf the web. Panasonic has partnered with MediaShift to bring this patented technology to the in-flight cabin environment. MediaShift's Monetization Platform (MMP) enables Panasonic and its airline partners to generate advertising revenue by introducing a variety of advertising products within a user's internet WI-Fi session. Selected advertising campaigns will appear within any web page that a passenger visits. The service adheres to Internet Advertising Bureau standards and guidelines and creates incremental revenue opportunities without any degradation to the content on the website or to the user experience.
Whether on a laptop, tablet, or smartphone, the AdConnect platform opens the way for premium brands to engage airlines' captive passenger audiences. AdConnect will harnesses the power of data from on-the-go audiences to serve personalized ads, content and incentives based on specific behavioral data, location and device types to these highly targeted customer segments. Initial technology integration activities are limited to the ground integration efforts within Panasonic Global Communications Services, ground network infrastructure. This reduces the complexities of deploying software within the aircraft environment, and avoids the need for Acceptance Test Procedures (ATP), and supports a faster time to market for the solution.

AdConnect will be available to airlines that have selected Panasonic's Global Communications Services. The technology will be available immediately for North America with other regions of the world coming online shortly thereafter.
Panasonic Avionics' infosite is located at http://www.panasonic.aero/