A news report in the online Sindh newspaper, SindhToday.net reports on the successful flight of Nishant, the indigenous unmanned air vehicle (UAV), starting a new chapter in the annals of Indian Aviation.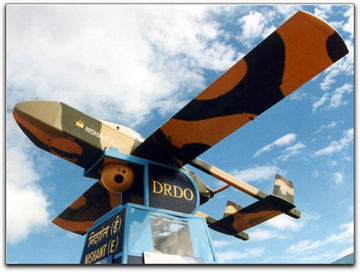 The flight was witnessed at
Veerapura
, a small village, eight kilometres from
Kolar
in
Karnataka
, where, from an abandoned runway of World War II vintage, the Nishant was flown. The UAV was jointly designed and developed by
National Aerospace Laboratories
(NAL), a
Council of Industrial and Scientific Research
(CSIR) lab,
Vehicles Research and Development Establishment VRDE
(VRDE),
Ahmednagar
and
Aeronautical Development Establishment
(ADE), Bangalore. The UAV climbed to an altitude of 1.8 kilometres before cruising for a duration of 35 minutes. The vehicle was recovered safely from dried up Muduvadi lake after a total flight duration of 40 minutes.
The event was witnessed by key personnel,
P.S. Krishnan
, Director ADE, Dr.
C.L. Dhamejani
, Director VRDE, and Dr.
AR Upadhya
, Director NAL, Regional Director RCMA and Regional Director, AQA, and other senior officers. The
Wankel
engine is the first of its kind and was totally designed and developed in the country. The provisional flight clearance for the first indigenous prototype engine was given by the certifying agency,
RCMA
, in a short ceremony held at the launch pad. The engine was cleared for flight after a rigorous ground and endurance test run. The engine weighs about 30 kgs and is known for its high power to weight ratio in single rotor category. The 55 HP can also be used for powering smaller air vehicles, automotive, outboard motors, and also has industrial applications.
This is the first time a Wankel engine has been developed within India and a UAV has been flown using that engine. This developed technology will be used for future application of Unmanned Air Vehicle (UAV)'s that are now under development in ADE, Bangalore. Nishant is a reconnaissance UAV, which has completed its user trials with the Indian Army and a few of these air vehicles will be handed over to Indian Army very shortly.