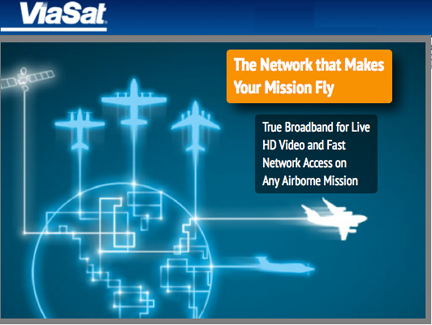 [SatNews] The VR-12 Ka-band satellite antenna system from ViaSat Inc. (Nasdaq: VSAT) has...
...passed industry standard DO-160G testing that meets FAA and international regulations covering electrical and electronic equipment installed on commercial aircraft. This standard applies to virtually every aircraft, ranging from general aviation and business jets, helicopters, and commercial jets, to civilian aircraft modified for government use. Test criteria include temperature, altitude, vibration, sand/dust, power input, RF susceptibility, and lightning and electrostatic discharge requirements. These new qualified production units are expected to be shipping within a few weeks.
The VR-12 Ka- antenna system and a companion ViaSat mobile satellite modem provides very high data rate, Beyond Line of Sight (BLOS) airborne satellite communications for bandwidth intensive applications such as military intelligence, surveillance, and reconnaissance (ISR) over commercial and military Ka-band frequencies. Previously announced VR-12 Ka- flight test results included simultaneous transmission of HD video, video teleconferencing, VoIP applications, and Internet at aircraft-to-satellite transmission rates upwards of 10Mbps.
Designed for use on aircraft such as Gulfstream, King Air, Pilatus, and C-130, the VR-12 Ka- follows on the heels of its VR-12 Ku- predecessor, which has accumulated more than 500,000 mission hours and is used on over 300 government aircraft. The VR-12 Ka systems also operate on ViaSat's growing worldwide mobile satcom network in Ka-band overlay regions.