Supposition no longer — MacDonald, Dettwiler and Associates Ltd. (TSX: MDA) is purchasing DigitalGlobe, Inc. (NYSE: DGI) and the two firms will merge as a combo of cash and stock will be committed at a price per share of $35.00.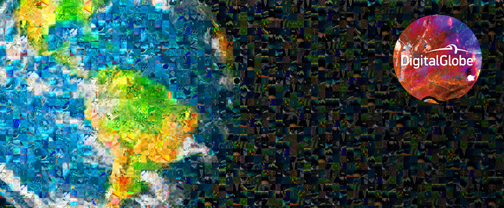 DigitalGlobe has been established at an equity value of approximately $2.4 billion (C$3.1 billion) with an enterprise value of $3.6 billion (C$4.7 billion) that includes MDA's assumption of DigitalGlobe's $1.2 billion (C$1.6 billion) net debt. The boards of directors of both firms have unanimously approved this business move, which is expected to close during the second half of 2017,.
Under the terms of the agreement, each DigitalGlobe common share will be exchanged for US$17.50 in cash and 0.3132 MDA common shares, representing a per share value of US$17.50 based on MDA's unaffected closing share price of C$73.40 on the Toronto Stock Exchange (TSX) on February 16, 2017, the day prior to market speculation about a potential combination, and a C$/US$ exchange ratio of 0.7612. The total cash and stock per share value consideration represents an 18% premium based on DigitalGlobe's unaffected closing stock price on the New York Stock Exchange (NYSE) on February 16, 2017.

The combination will bring together complementary space-related capabilities, creating a stronger company that will be strongly positioned to capture growth in the US, Canadian and global Earth observation (EO) and geospatial services markets, given the firm's combined abilities to provide complete, end-to-end space systems, Earth imagery and geospatial solutions. Together, the combination will leverage a full suite of space-related capabilities, including communications and EO satellites and robotics, ground stations, integrated electro-optical and radar imagery, and advanced data analytics. Additionally, the combined company will lead in cloud-based information services that allow commercial and government customers worldwide to better understand activity across the changing planet.

As part of the transaction, MDA will apply to list its shares on the NYSE in addition to the TSX. Upon completion of the transaction, the combined Company will continue to execute its US Access Plan strategy. This will include further reorganization of all or part of the combined Company's corporate and operating structure to ensure that the ultimate parent of DigitalGlobe is incorporated in the US by the close of 2019, subject to customary approvals. MDA undertook a corporate reorganization in 2016 that included the formation of SSL MDA Holdings, Inc. ("SSL MDA Holdings"), the US Operating Company of MDA, under the guidance and approval of the US Department of Defense (DoD). SSL MDA Holdings currently operates under a Security Control Agreement (SCA) with DoD, allowing it to pursue and execute U.S. Government programs that require security clearances.
The combination of MDA and DigitalGlobe's technology offers attractive vertical integration benefits, including lower costs, increased speed-to-market and enhanced analytics capabilities. Combining MDA's leadership in satellite design and manufacturing, radar capabilities, ground systems and systems engineering with DigitalGlobe's world-leading constellation, archive, platform and advanced geospatial expertise and analytics will drive value and open channels for growth in adjacent markets. MDA's industry-leading technology in large and small satellites and ground stations will enhance DigitalGlobe's future constellations, positioning the combined company to extend its lead in the collection, dissemination and analysis of commercial Earth imagery collected with unrivaled resolution, accuracy, revisit and refresh of the most rapidly changing places on the planet.
The transaction is expected to be accretive to MDA's Operating EPS in 2018 and the combined company will deliver meaningful revenue and cost synergies of C$75-150 million on a run-rate basis by 2019. Revenue synergies include accelerating SSL's penetration into US Government markets, international market expansion, cross-selling opportunities and the ability to target larger geospatial services contract awards. Cost synergies include elimination of duplicative public company costs, procurement cost savings, efficiencies gained by leveraging SSL's manufacturing capabilities for future Earth observation satellite constellations, and the operational benefits of increased scale.
Mr. Lance will lead the combined company and his extensive experience in the global aerospace, defense and security markets will help to guide and inform the transition and will position the combined company to capture growing demand for end-to-end space systems solutions. The DigitalGlobe name, brand and headquarters in Westminster will be maintained. In addition, three of DigitalGlobe's current directors will be appointed to the MDA Board of Directors. The combined company will have approximately 4,600 employees in the United States and will continue to employ more than 1,800 in Canada.
"Today's announcement creates a new company that will lead the industry, offering space systems and imaging solutions from inception to execution, able to make design decisions with our customer's needs in mind," said Howard L. Lance, President and CEO of MDA. "This combination has the scale, resources and technology to serve the large and increasingly complex needs of government and commercial customers globally. By combining MDA and DigitalGlobe, we are significantly expanding our total addressable market by broadening both companies' capabilities and facilitating future growth. MDA remains fully committed to its enduring and valued partnership with the Canadian Government and our Canadian employees. This combination offers the opportunity to deliver future economic and job growth in both Canada and the United States, as we focus on driving sustainable revenue expansion from our investments and create value for all our stakeholders." He then added that this transaction is a major step forward to the company's previously announced US Access Plan, serving the US Government as a mission-critical partner with an expanded portfolio of end-to-end solutions. DigitalGlobe will operate as a stand-alone division under SSL MDA Holdings, in the same way as SSL and MDA's Canadian businesses.

Jeffrey R. Tarr, president and chief executive officer of DigitalGlobe, said, "Following a thorough review of strategic alternatives, we believe that joining forces with MDA will enable us to deliver more value to our customers, expand opportunities for our team members and maximize value for shareowners. This compelling transaction will deliver immediate cash value to shareowners with further upside through ownership in the combined entity, position DigitalGlobe to reach its next phase of growth and provide greater opportunities for our team members by being part of a larger, more diversified company. Upon completing the transaction, DigitalGlobe will accelerate our vision of being the leading source of information about our changing planet. We look forward to working with the MDA team to ensure a seamless transition and to realize the potential of this exciting combination."