Clyde Space has successfully commissioned their ground station at the firm's Glascow headquarters in Scotland to control and track satellites for their customers.
Clyde Space has developed a highly adaptable software defined ground station solution in support of their customers' missions, including...
A fine accuracy rotator system enabling high data rate technology
Bespoke networking that permits remote locating of antenna arrays
A full RF front end based around space capable COTS componentry and a flexible modular architecture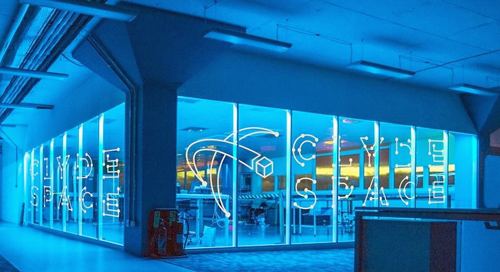 Clyde Space's ground station solution has already attracted interest from customers in the Asian, European and American markets, with two ground stations currently being commissioned in the Middle East and United States. The addition of the ground station means Clyde Space is now a 'one-stop shop' with the ability to build sophisticated and complex satellites and then monitor them throughout their journey through space. The installation also means the company, which recently won the Queen's Award for Enterprise in the Innovation category and scooped the Sunday Times-Lloyds Banking Group's prestigious SME Export Track 100 award for innovation, strengthens its pre- and post-mission service to its growing, global list of clients.
Built with the aid of a Scottish Enterprise SMART grant, the ground station antenna installation is on the roof of Clyde Space headquarters at Skypark in central Glasgow. Its location provides an unobstructed sky view, which will maximize monitoring of satellite pass times and it will be the control centre for future cubesats built by the Scottish space technology specialists.
The key functions on the latest addition to the city's skyline will be to control and operate the satellites, supporting each specific space mission and to develop understanding and knowledge for inflight testing. As every satellite is different because of orbit positioning or bespoke configurations for mission requirements, the ground station is highly flexible and will be able to track several satellites at one time. Communication with them will depend on their orbit cycles and the monitoring will be carried out by existing highly-trained Clyde Space staff.
Over the last few years, Clyde Space has invested in product and process development, put in place world class assembly and test facilities at its Glasgow headquarters and announced international expansion plans. Clyde Space is the only dedicated cubesat supplier in the United Kingdom and now supports, in some form, 40 percent of all cubesat missions. These smallsats, which are about the size of a whisky box, offer an almost unbelievable range of capabilities including infrastructure monitoring, disaster management, weather and climate data, mapping and even the movement of fish across the oceans.
UKube-1, Scotland's first satellite, was designed and built by Clyde Space in Glasgow and launched from the Baikonur Cosmodrome, Kazakhstan, in 2014 and continues to be a strategically important part of the UK Government's Innovative Growth Strategy for Space Clyde Space is backed by Scottish investment companies Coralinn LLP and Nevis Capital.
Clyde Space CEO Craig Clark said there's been a big demand for the company to operate the firm's satellites as well as manufacture them. This new ground station, built with the support of Scottish Enterprise, adds to the Glaswegian skyline as well as forms part of the company's satellite service package. It's one of many milestones for 2017, set to be Clyde Space's most exciting year yet…