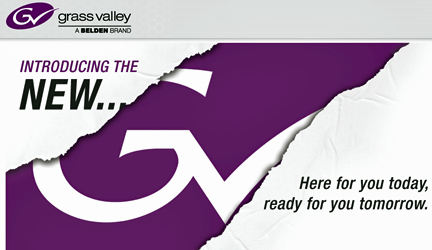 [SatNews] The new Grass Valley, a Belden Brand, paves the way to an IP-based future with the debuts of the firm's NVISION 8500 IP Gateway, IRG-3401 IP Gateway and the Kaleido-IP X310 at Broadcast Asia 2014.

The introduction of the new NVISION 8500 IP Gateway input/output card takes Grass Valley's well-established IP presence in multiviewer, ingest, playout, modular and monitoring products to even broader heights. The NVISION 8500 IP Gateway converts and packetizes real-time, uncompressed, baseband video for multi-directional transport over 10Gb Ethernet networks. SDI signals are then packetized, and can be readily distributed from rack-to-rack, truck-to-truck or between floors, buildings or campuses—over an IP network. Frame-accurate switching from SDI to IP guarantees signal integrity and the non-blocking architecture of the cards ensures access to all crosspoints within the NVISION 8500 Series router. Existing NVISION 8500 routers can be easily upgraded to support the new card.10 GbE Ethernet tie lines between core and production island routers enable any IP Gateway-equipped NVISION 8500 router to establish a straightforward transformation to high-speed networking for data and content transport.

Also featuring as an IP-transition enabler is the new IRG-3401 IP Gateway, a high density, bi-directional DVB-ASI/IP gateway—the densest IP gateway available. Handling up to 120 gateways in a single 3 RU frame, the IRG-3401 has thousands of potential applications, including IP jitter removal, a vital quality of service factor in network performance.

Of course, if transitioning to an IP infrastructure, monitoring is essential. The latest version of Grass Valley's Kaleido-IP X310 multiviewer—with the highest density in its class—extends the level of monitoring support for this platform to 128 SD or 64 HD programs with double the number of simultaneous audio and video decodes as its predecessor, but at half the size.
For further information, please visit http://www.grassvalley.com/