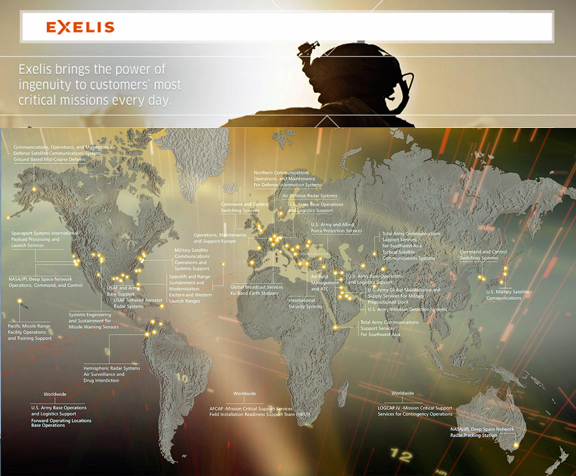 [SatNews] Exelis (NYSE: XLS) has announced that its board of directors has unanimously approved a plan to spin-off its military and government services business, currently called Exelis Mission Systems, into an independent public company.
This business is currently part of the company's Information and Technical Services segment. The transaction is intended to be tax-free to Exelis and its shareholders, is expected to be completed by the summer of 2014, and is subject to final approval of the company's board of directors.
"We are repositioning our businesses to enhance our focus on the long-term growth drivers that will enable us to remain well-positioned in an evolving global market environment," said David F. Melcher, chief executive officer and president of Exelis. "Today's announcement follows a comprehensive review of our business and market dynamics. This spin-off enables both Exelis and Mission Systems to become more agile, better aligned and able to more effectively meet the needs of their customers, both domestically and internationally."
Following completion of the spin-off, Exelis will retain a portfolio of mission critical, affordable and platform agnostic products and services for managing global threats, conflicts and complexities. The business will focus future investments on strengthening its four strategic growth platforms of Critical Networks; ISR & Analytics; Electronic Warfare; and Aerostructures. These growth platforms, which have been strategically aligned with future customer requirements, are supported by the company's most differentiated and enduring C4ISR capabilities such as global intelligence, surveillance and reconnaissance systems, networked communications, integrated electronic warfare, and engineering and professional services.
Following the spin-off, the company expects that revenues will reflect greater customer diversity. Today, about 30 percent of Exelis revenues are from non-U.S. defense markets such as air traffic management, information and cyber security, commercial and international markets. Following the spin-off, it is expected that non-U.S. defense markets will account for approximately 50 percent of Exelis revenues. Pro-forma for the spin-off, Exelis is expected to generate 2013 estimated revenues of approximately $3.4 billion with meaningful appreciation in its growth and operating margin profile. Exelis expects to continue its current quarterly dividend and maintain a capital structure consistent with investment-grade credit ratings.
Following completion of the spin-off, Exelis Mission Systems will be renamed and rebranded as a new, independent company that provides industry-leading facilities management, logistics and network communications services. As a pure-play services provider, the new company will capitalize on more than 50 years of experience delivering service solutions to a wide range of customers. With nearly 7,000 employees currently operating in more than 100 locations in 18 countries, the Mission Systems business is well-positioned to deliver a broad range of capabilities as an independent entity. From facilities management and full spectrum logistics support to operating and maintaining networks and communication infrastructure, the new company will leverage its reputation and decades-long track record as a leading provider of services to the U.S. government to offer a unique value proposition based on efficiency, operational excellence and cost-effectiveness. The current Exelis Mission Systems business has historically generated strong cash flow and demonstrated a high return on invested capital due to the low capital investment required in the services market. Pro-forma for the spin-off, 2013 estimated revenue for the future company is estimated to be approximately $1.5 billion, and it is expected to leverage increased financial flexibility to address a broader range of adjacent new business opportunities.
Effective upon the completion of the transaction, the new services company will be led by Kenneth W. Hunzeker, who has served as president and general manager of Exelis Mission Systems since April 2011. Prior to his current role, he served as vice president of government relations for ITT Defense and Information Systems. Before joining Exelis, Hunzeker spent 35 years in the U.S. Army where he held a variety of leadership roles, rising to the rank of lieutenant general before retiring in 2010. Most recently, he served as Deputy Commander, United States Forces-Iraq as part of Operation Iraqi Freedom.
The non-executive chairman of the board of the new company will be Louis J. Giuliano, a previous chairman, president and chief executive officer of the former Exelis parent company, ITT Corporation (then ITT Industries), from 2001 to 2004. Within ITT, he also served as president and chief operating officer from 1998-2000 and president and chief executive officer of the ITT Defense and Electronic Systems business sector for eight years. Mr. Giuliano is currently an operating executive to the aerospace & defense, automotive & transportation and industrial groups at The Carlyle Group.\
The completion of the spin-off transaction will not require a shareholder vote. The separation plan will be subject to customary regulatory approvals, including filing of required documents with the U.S. Securities and Exchange Commission, the receipt of a tax opinion from counsel as to the tax-free nature of the spin-off transaction, the execution of intercompany agreements, finalization of the capital structure of the new corporation, final approval of the Exelis board and other customary matters. The company notes there can be no assurance that any separation transaction will ultimately occur or, if one does occur, its terms or timing.