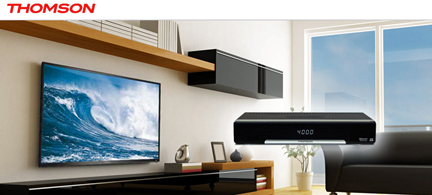 [SatNews] After the successful THS810, THOMSON brings the practical and versatile Digital High Definition Satellite Receiver THS811 to the market, an ORF certified receiver for reception of digital Free-To-Air TV (FTA) and radio programs via satellite—the smart card slot additionally allows reception of Austrian TV programs with an activated and valid Irdeto smart card.

THOMSON's THS811 is the perfect choice for relaxing entertainment at home. This high-end satellite receiver offers a TV experience in HD and Dolby® Digital Plus* sound. As is the case with all THOMSON receivers, this unit offers an elegant design and extensive functions. Also stylish, like the THS811 receiver, is the new THOMSON remote control, which feels very comfortable in the hand thanks to its ergonomic shape.
Installation and operation are very simple. An installation wizard will guide through the menu in just a few steps. Three pre-installed channel lists for TV and radio, including the "HD Austria Senderliste," are available. Customers who do not have an HD Austria subscription or have not taken advantage of the offer yet will receive the HD Austria channels for free for the next three months. A recording can quickly be booked directly in the electronic program guide (EPG) and made onto a connected external hard drive via the receiver's USB port. Also, a phone call during a program will not bother the viewer any longer. With a push on the pause button on the remote control, the Timeshift function is activated and the receiver starts recording the program. After the phone call is concluded, the program can then be reactivated. Further convenient and entertaining features of the THS811 are the multimedia functions, personalized favorite lists, timer functions, teletext, subtitles and selectable multilingual audio tracks. With the infrared sensor, the receiver can be placed on a hidden place but still be operated.
For further information, please visit the THOMSON infosite at.
*Dolby and the double-D symbol are trademarks of Dolby Laboratories.